Intrahepatic cholestasis of pregnancy (ICP) is the most frequent liver disease arising in the second or third trimester of pregnancy that is characterized by elevated maternal serum bile acids levels. ICP endangers severely the health of the fetus. Numerous studies have reported that poor fetal outcome is closely related to elevated maternal serum bile acids levels. However the underlying mechanism is still unknown.
Researchers from Prof. CHEN Jianfeng's group at Institute of Biochemistry and Cell Biology, Shanghai Institutes for Biological Sciences (SIBS) of Chinese Academy of Sciences (CAS), revealed that maternal high serum bile acids can induce placental inflammation and then affect fetal outcome. This study was published in Journal of Molecular Cell Biology.
The researchers isolated and cultured the placental trophoblasts from healthy pregnancies, and treated the cells with bile acids. They found that high level bile acids induce inflammatory response in trophoblasts by activating NF-kappaB pathway via G-protein-coupled bile acid receptor 1 (Gpbar1). Consequently, leukocytes are recruited and result in an aberrant inflammation in placenta.
Further study using radiolabeled ligand binding assay, the researchers found that ursodeoxycholic acid (UDCA), the most powerful drug to treat ICP, could inhibit bile acid-induced inflammatory response through competing with other bile acids for binding with Gpbar1. In addition, andrographolide, which is a NF-κB inhibitor, shows a similar effect with UDCA in inhibiting bile acid-induced inflammatory response.
Finally, with a rat model of obstructive cholestasis, the researchers revealed that both UDCA and andrographolide treatment can alleviate placental inflammation and improve fetal outcome. Above all, andrographolide, which has never been used for ICP treatment, is more effective than UDCA. This finding might offer a better solution for clinical management of ICP.
This study reveals that high levels of bile acids trigger placental inflammation by activating Gpbar1/NF-κB pathway in trophoblasts, which plays a critical role in ICP-associated fetal disorders. This finding suggests that anti-inflammation strategies targeting Gpbar1/NF-κB pathway could be effective in protecting fetuses.
The study was supported by the 973 program, National Natural Science Foundation of China, Personalized Medicines-Molecular Signature-based Drug Discovery and Development, the Strategic Priority Research Program of Chinese Academy of Sciences, Science and Technology Commission of Shanghai Municipality, SKLCB, the CAS/SAFEA International Partnership Program for Creative Research Teams, and the SA-SIBS scholarship program.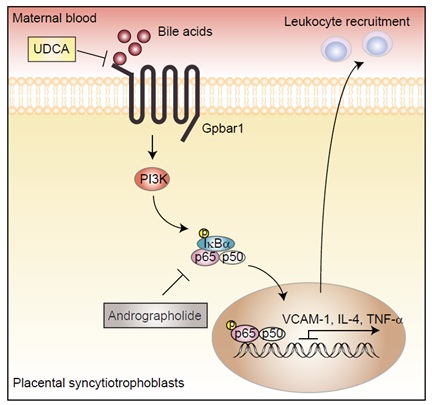 Figure: Model for high level serum bile acid-induced placental inflammation in patients with ICP (Image by Prof. CHEN Jianfeng's group)