In petroleum chemical industry, oil production sewage, oil spill accidents and oil refining wastewater have polluted water resources seriously. The separation of oil and water is a fundamental process in purifying the sewage of oil chemical industry, which is involved in oil-water interface. The tiny amount of surfactants presenting in oil-water interface is important for stabilizing water-oil interface. Research of the interactions of surfactants with water-oil interface is crucial for understanding the mechanism of oil and water separation process.
Researchers at Xinjiang Technical Institute of Physics & Chemistry (XTIPC) of Chinese Academy of Sciences detected the adsorption processes of several common surfactants at the hexadecane–water interface with Second Harmonic Generation (SHG) and Zeta potential measurements. The study has been published in J. Phys. Chem. C.
Researchers employed water molecules as reliable indicators of the adsorption of ionic surfactants in SHG analysis. The adsorption of sodium dodecyl sulfate (SDS) and cetyltrimethyl ammonium bromide (CTAB) at the oil–water interface monitored by both SHG and Zeta potential measurements.
The adsorption process begins with an initial step dominated by the adsorption of the hydrophobic part of the surfactant, which has not been experimentally analyzed before. The latter step concerned comparable contributions from both the hydrophobic part and the counter ion. The adsorption free energies of CTAB and SDS at the hexadecane–water interface are mainly determined by the initial step, where the interactions between the adsorbed apecies and counterions are relatively weak.
In addition, researchers examined the adsorption of two oil soluble amphiphiles (oleic acid and oleylamine) at the hexadecane-water interface, which has not been studied. According to the ionic strength dependent SHG signal at the hexadecane–water interface analysis, the results show that the origin of the SHG emission is mainly the water molecules at the interfacial layer. The preferential orientation of water molecules is with the hydrogen atoms pointing to the oil phase.
The work was supported by the National Natural Science Foundation of China, the Thousand Talent Program, the Chinese Academy of Sciences' Hundred Talent Program, etc.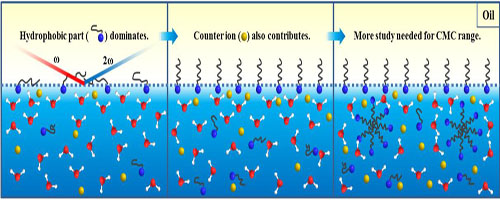 Figure: Illustration for the adsorption process of surfactant at water-oil interface. (Image by XTIPC)