Lung cancer is one of the most devastating diseases with high incidence and mortality worldwide. Non-small cell lung cancer (NSCLC) is composed of adenocarcinoma (ADC), squamous cell carcinoma (SCC), adeno-squamous cell carcinoma (Ad-SCC) and large cell carcinoma and featured with high genetic and histopathological heterogeneity. LKB1 inactivating mutations have been frequently detected in about 20% NSCLC subtypes, which represents a unique and prevalent molecular subtype with limited treatment options. LKB1 is considered as a genetic modifier of therapeutic response in NSCLC, but the underlying mechanisms are not fully understood.
As a tumor suppressor, LKB1 inactivation promotes cell growth and tumor progression. As a regulator of cellular energy sensing and metabolic homeostasis, LKB1 inactivation sensitizes tumor cells to stress conditions such as glucose deprivation or matrix detachment. Previous study showed that inactivation of LKB1 in KrasG12D;Lkb1lox/lox (KL) NSCLC mouse model dramatically accelerates lung tumor progression, raising an interesting question about how LKB1 inactivation coordinates in vivo lung tumor progression with metabolic adaptation. Notably, LKB1 inactivation in KL model leads to expanded lung tumor heterogeneity as by the emergence of ADC, SCC and mixed Ad-SCC. This tumor plasticity results from ADC-to-SCC transdifferentiation (AST) through mixed Ad-SCC at late stage. However, it remains unclear how LKB1 inactivation coordinates tumor progression with metabolic adaptation in orchestrating this tumor plasticity.
To answer this question, a research team led by Prof. JI Hongbin from the Institute of Biochemistry and Cell Biology, Shanghai Institutes for Biological Sciences in collaboration with Prof. CHEN Haiquan from the Shanghai Cancer Hospital of Fudan University, revealed differential reactive oxygen species (ROS) levels in ADC and SCC of KL mouse model. They found that ROS can modulate AST. Further, pentose phosphate pathway deregulation and impaired fatty acid oxidation collectively contributed to the redox imbalance and functionally affect AST. Similar tumor and redox heterogeneity were also observed in human NSCLC with LKB1 inactivation. In preclinical trials towards metabolic stress, certain KL ADC could develop drug resistance through squamous transdifferentiation.
Their study, entitled "LKB1 Inactivation Elicits a Redox Imbalance to Modulate Non-Small Cell Lung Cancer Plasticity and Therapeutic Response" was published in the journal Cancer Cell on April 30th, 2015 and will appear as cover story in the coming May issue.
This study uncovers the accumulation of ROS during ADC progression, which modulates the phenotypic transition as squamous transdifferentiation and metabolic adaptation. This metabolic adaptation reflects the dynamic function of LKB1: a tumor suppressor at early lung ADC progression and an essential metabolic regulator at late phenotypic transition. The redox-controlled tumor plasticity for squamous transdifferentiation enables ADC to progress under stress, and more importantly to escape certain treatment towards cancer metabolism. The plasticity represents as a potentially important mechanism for lung cancer metabolic adaptation and drug resistance, and holds important therapeutic implications.
This work holds important implication for precision medicine and encourages relapsed lung cancer patients to do second or even third biopsy for pathological check which potentially helps the cancer-type specific treatments.
This research was supported by the National Basic Research Program of China, the National Natural Science Foundation of China, the Science and Technology Commission of Shanghai Municipality, the "Cross and cooperation in science and technology innovation team" program and the Shanghai Institutes for Biological Sciences.
CONTACT:
JI Hongbin, Principal Investigator
Institute of Biochemistry and Cell Biology, Shanghai Institutes for Biological Sciences, Chinese Academy of Sciences
Shanghai 200031, China
Phone: 86-21-54921108
E-mail: hbji@sibcb.ac.cn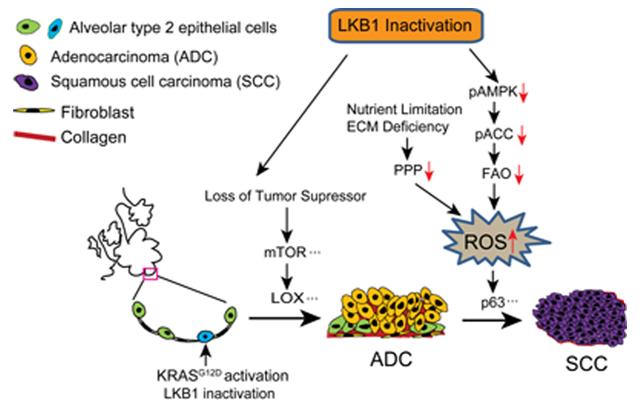 Fig.1 A scheme for the dynamic role of LKB1 inactivation in non-small cell lung cancer (Image by Prof. JI Hongbin's group)