Scientists of Institute of Optics and Electronics (IOE), Chinese Academy of Sciences (CAS) first use solar granulation as the beacon to correct adaptively and achieve high resolution images of solar granulation and sunspots in China.
The team of solar adaptive optics, from CAS Key Lab. of Adaptive Optics and IOE, CAS, achieved the high resolution images of solar granulation and sunspot firstly in China by adaptive optical correction using the solar granulation as beacon on Oct. 26th 2009. Solar granulation is a kind of low contrast extended objects. Before this breakthrough, the team corrected solar object by adaptive optics technology using sunspots as beacon on the precise 26cm telescope of Yunnan Observatory on Sep. 2009.
The solar surface activity has direct effect on earth weather, space environment, and electromagnetic field. Thus, exploration of sun activity and its law is an importance of leading-edge subjects. It is significant to understand space environment change, disaster prevention and mitigation and environment protection on the earth. An indispensable method is to image and to observe solar object with high resolution by adaptive optics technology to reveal the dynamic characterize magnetic fluid resulted from solar activity and the effect of solar activity on the space environment and space weather inter-planets particular between earth and sun.
Daytime solar adaptive optics faces large challenge to detect wavefront of low contrast extended object on solar surface, comparing to ordinary astronomy adaptive optics for observing stars at night. Moreover, the contrast of solar granulation is much lower than sunspot or other objects. Thus, adaptive optical correction with solar granulation is the most challenging. The contrast of corrected images of solar granulation and sunspot is improved dramatically to make the umbra and penumbra of Sunspot clearly visible with their research efforts. These lay a corner stone for observing and imaging with high resolution on 1-meter infrared solar telescope under building and next generation larger aperture solar telescope.
The work is supported by Yunnan Observatory, CAS.
The observing results of solar granulation and sunspot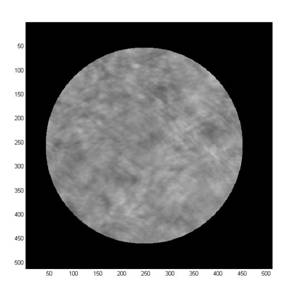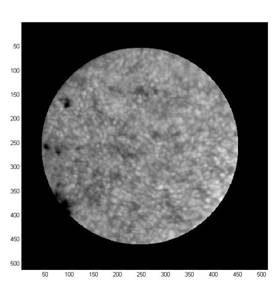 (a)Results before being corrected by AO  (b) Results corrected by AO
Fig.1:Observing results of solar granulation (photo by AO Lab of IOE)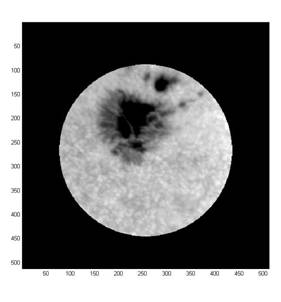 (a)Results before being corrected by AO  (b) Results corrected by AO
Fig.2: The observing results of sunspot (photo by AO Lab of IOE)