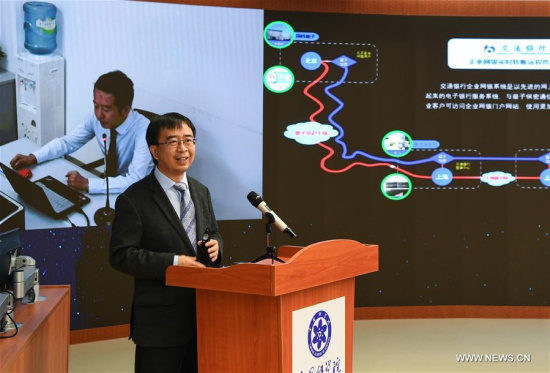 Pan Jianwei, lead scientist of the Jing-Hu, or Beijing-Shanghai, Trunk Line, speaks during the opening ceremony of the line in Beijing, capital of China, Sept. 29, 2017. (Xinhua/Shen Hong)
A 2,000-km quantum communication line opened on Friday between Beijing and Shanghai.
The line is the world's first trunk line of secure quantum telecommunications. The Jing-Hu (Beijing-Shanghai) Trunk Line connects Beijing, Jinan, Hefei, and Shanghai.
The line is connected with the world's first quantum satellite, which was launched by China in August last year, through a station in Beijing. The satellite is nicknamed "Micius," after a fifth century B.C. Chinese philosopher and scientist who has been credited as the first one in human history conducting optical experiments.
Bai Chunli, president of the Chinese Academy of Sciences (CAS), talked with staff in Hefei, Jinan, Shanghai and Xinjiang Uygur Autonomous Region, through the line. He also had a video call with Austrian quantum physicist Anton Zeilinger, through the satellite.
Quantum communications have ultra-high security. It is impossible to wiretap, intercept or crack the information transmitted through them. (Xinhua)