A group of 62 elite Chinese and foreign scientists were formally inducted as members of the Chinese Academy of Sciences at a ceremony today in Beijing.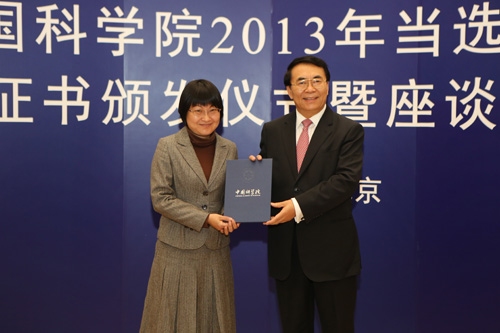 CAS President BAI Chunli conferring Academician certificate to new elected CAS member. (Image by CAS)
The newly elected CAS academicians comprise 53 Chinese citizens and nine foreign scientists from six countries, expanding the academy's membership to 750 Chinese and 72 foreign members.
Selection for the title of academician – the highest academic honor in the field of science and technology in China – is based on academic achievements and scientific contributions. CAS holds membership elections biennially, with a limit of 60 new domestic members for each cycle. In order to maintain an appropriate balance among its cadre of academicians, CAS aims to honor scientists from newly emerging or cross-disciplinary fields and select members from a range of scientific disciplines.
The 53 new Chinese honorees, with an average age of 54, were selected from 391 candidates representing research institutes and universities across China. Of the new members, nine were elected to the mathematics and physics division of CAS, nine to the chemistry division, nine to the life sciences and medical sciences division, 10 to the earth sciences division, seven to the information technology sciences division, and nine to the technological sciences division.
The new foreign members of CAS include Israeli scientist Aharon Ciechanover, who won the 2004 Nobel Prize in Chemistry, as well as four scientists from the United States of America, one from France, one from Denmark, one from Brazil and one from India.
One of the major roles of CAS academicians is to provide advice to the government on important science and technology issues related to economic and social development. Academicians also offer suggestions on the development of major science and technology programs, as well as advice on academic issues related to research planning by research institutions and other organs.
CAS President BAI Chunli, speaking at today's ceremony, said selection for this honor is just a "brand-new starting point" on the road of scientific innovation and personal development. He said that academicians should "never be satisfied" on the road of scientific exploration and should continuously achieve ever greater innovative results.