China will increase funding to young scientists to transform the world's manufacturing workshop into an innovation-driven economy.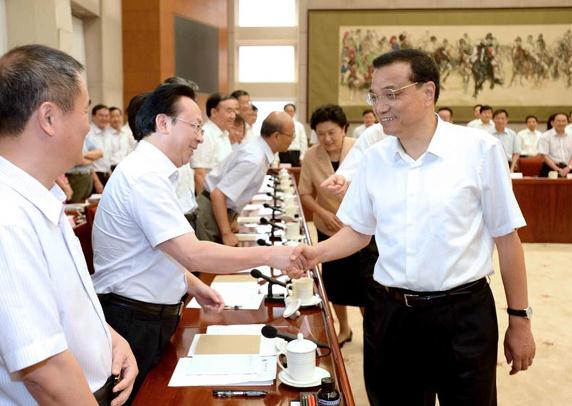 Premier Li Keqiang shakes hands with the participants while attending a discussion gathering outstanding young scientists from across China in Beijing, capital of China, Aug 21, 2014.[Photo/Xinhua]
The government will also streamline the approval procedure of such sponsorship, Premier Li Keqiang said after dozens of top-ranking scientists complained about the difficulties of securing research funds when they were young.
"Talent, instead of intensive labor, will become the continuous driver of future economic growth," Li said, "It is time to rely on talent dividends to maintain economic growth."
He recalled that Chinese workers, as "an increasingly influential group in one of the world's most powerful economies", were honored the runner-up Person of the Year by Time magazine in 2009.
"But things have changed," he added, "China can no longer rely on exporting low value-added goods for development. It is time we change our model of economic expansion to innovation-driven."
The world's second-largest economy expanded by 7.4 percent in the first half of this year, raising concerns that it may miss its annual economic growth target of 7.5. Meanwhile, foreign investors are relocating to Southeast Asian countries where labor costs are lower than in China.
"At such a critical moment of economic transformation, our expansion should rely not only on investment and diligence, but also innovation," Li said.
A symposium was held on Thursday to celebrate the 20th anniversary of a scientific fund for young talent-the China National Funds for Distinguished Young Scientists-which was introduced in 1994.
The fund, which subsidizes the work of scientists under age 45, channels money directly to scientists, instead of investing in a given project.
It has sponsored more than 3,000 scientists, and more than 200 of them have been elected fellows in the Chinese Academy of Sciences and Chinese Academy of Engineering.
Chen Zhu, one of the first scientists sponsored by the fund and now China's topmost oncology expert, said the funding has given a push to young researchers like him who have returned from overseas, and has allowed him to research whatever he's interested in, without being tied to a particular project.
Mao Shoulong, a professor of public policy at Renmin University of China, said a new generation of talent brings about a new horizon for development.
"Many important scientific discoveries and technological innovations are works of the young. Although many Nobel Prize winners receive the honor when they are older, their achievements were usually made when they were still quite young," he said. (China Daily)