An IECAS-developed ice radar system developed by Institute of Electronics, Chinese Academy of Sciences (IECAS) started its journey with the inland ice sheet division of China's 29th Antarctic expedition team from Antarctic Zhongshan Station to Kunlun Station for an inland ice sheet expedition.
The division will use the radar system to continuously detect the thickness of ice sheets stretching over 1,000 kilometers on the way and at the Kunlun Station. With a penetrating capacity of 3,500 meters, the system can directly detect the bottom of ice sheets to reveal the relations between ice sheet stability and sea level changes.
The ice radar system was developed by the Key Laboratory of Electromagnetic Radiation and Sensing Technology, IECAS. Targeting the national demand for polar expeditions, financed by Program 863 under the Ministry of Science and Technology and the National Natural Science Foundation, the laboratory has developed deep and shallow ice radar systems, which participated in China's 26th and 28th Antarctic expeditions and acquired detection data from over 2,000 meters under ice in the 28th expedition.
"The ice radar system involved in the 29th inland expedition has a strong penetrating capacity, high bottom detection accuracy and a high imaging resolution, now only few countries has the radar equipment," said researcher SUN Bo, chief of the division.
The deep ice detection data acquired by the system will provide an important basis for researches on Antarctic climatic changes and ice topography.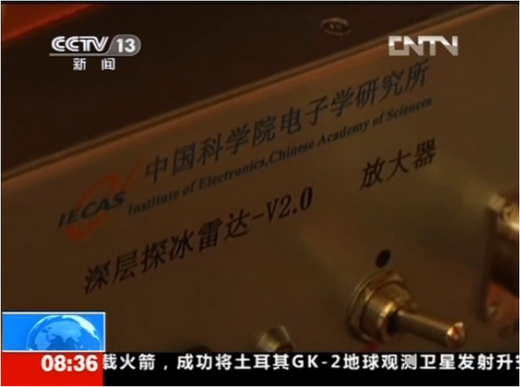 Ice radar system (Image by CCTV)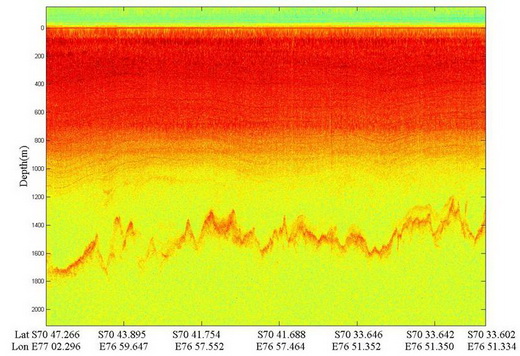 Detection data under ice in the 28th expedition (Image by Key Laboratory of Electromagnetic Radiation and Sensing Technology)