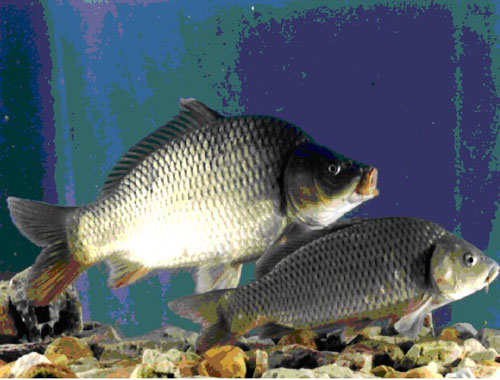 A genetically manipulated carp (top) and the normal carp

World's first somatic cell cloned fish and transgenic fish, produced by Institute of Hydrobiology, Chinese Academy of Sciences (IHB) were listed among Hubei Top 60 recognizable events with Hubei Daily Media Group on Dec.16, 2009.
In 1982, IHB scientists transferred the kidney nucleus of triploid crucian Carp into the enucleated oocytes of diploid crucian carp and got the renal cell cloned fish. This is the first time that the somatic cell cloning of an adult vertebrate has been realized, revealing that the somatic cell nucleus of an adult animal can be dedifferentiated and reprogrammed. This cloned fish, bred by IHB, was born 15 years earlier than the world's first somatic cell cloned sheep Dolly was born in Great Britain.
In 1983, the first successful gene transfer in fish was produced by IHB. A team of IHB professors, led by Prof. ZHU Zuoyan, who is now academician of the CAS, injected a gene that regulates human growth into the eggs of 3,000 goldfish. As the eggs developed, the gene was integrated into the chromosomes of more than half of the progeny. An intact theoretical model and experimental system was then built up for exploring new areas in genetic engineering of fish breeding.
New York Times reported this achievement in 1990, saying that "the first gene transfer in the United States was reported three years after Dr. Zhu's." The birth of world's fish transgenic fish was cited by The Timetables of Science as one of the two significant research achievements ever accomplished in China.
IHB has new progress in interspecies cloning of fish and molecular mechanism of cloned animals in recent years. Researchers are cultivating new strains of transgenic fish and trying to commercialize the transgenic fish.