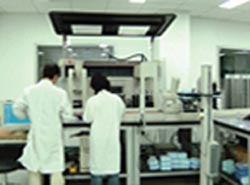 With the support of the National Development and Reform Commission, the National Engineering Laboratory for Traditional Chinese Medicine is to be built at the CAS Institute of Meteria Medica (IMM) in Shanghai.
The plaque presentation ceremony for this and nine other labs was held at the China Bio-industry Conference 2008 on 21 June in Changsha, capital of southern China's Hunan Province.
Based on the Research Center for Modernization of Traditional Chinese Medicine affiliated to IMM, the lab is to rally various medical research bodies across the country, including pharmaceutical enterprises, universities, R&D institutes involved in standardization of the traditional Chinese medicine.
The new lab's main R&D tasks include the construction of a research platform for production expertise in manufacturing standard materials and chemical reference substances of traditional Chinese medicine (TCM), overall appraisal of standardization norms of TCM, and elimination of toxicants, harmful substances from the TCM drugs. By opening new horizons for quality control and product qualifications for crude drugs, extracts, prepared medications and oral potions, it is expected to solve some bottle-necking posers and long-standing technical issues in this field.