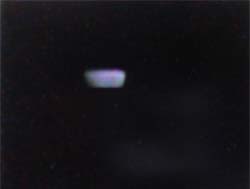 First synchrotron radiation beam line (visible light) observed
After three years of hard work, CAS researchers were successful in realizing the 3GeV electron beam storage at the Shanghai Synchrotron Radiation Facility (dubbed Shanghai Light Source Project or SSRF), a third-generation synchrotron radiation light source. They are able to see the long-waited synchrotron radiation beam line.
Kicked off on 25 December, 2004, the construction of the 1.2 billion yuan Project has been implemented by researchers from CAS Shanghai Institute of Applied Physics and their co-workers under the sponsorship of CAS, Shanghai municipal government with support from the State Council.
When completed in 2009, SSRF is expected serve a group of various academic disciplines, providing a platform for upgrading China's capacities in original innovation and key technological development.