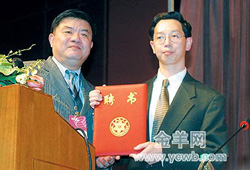 Dr. Chen Ling (right), GIBH director general, receives his certificate of appointment from CAS Vice-President Chen Zhu
The nameplate for the CAS Guangzhou Institute of Biomedicine and Health (GIBH) was unveiled on December 27 in Guangzhou, capital of southeast China's Guangdong Province. High-ranking officials including CAS Vice-President Chen Zhu, Secretary of CPC Committee of Guangzhou City Lin Shusen, Vice Governor of Guangzhou Province Song Hai, President of Academy of Military Medical Sciences Zhao Dasheng, and GIBH Director General Chen Ling officiated at the ceremony.
Under an agreement signed by CAS, Guangdong Province and Guangzhou City on July 25, 2003, GIBH will be jointly developed by the three parties with an initial investment of 300 million yuan (or US$36 million) over the next three years.
During the first phase, the institute will give priorities to the studies of pathogenesis and diagnosis of cardiovascular diseases, cancers and newly emerging epidemics. In the field of bio-technology, its research will focus on antibody and vaccine engineering. In the aspect of pharmaceutical development, attention will be directed to the natural and synthetic medicines with local features and intellectual property rights. The emphases will also be placed on the development of research and diagnostic reagents.
The Director General Chen Ling, an expert of gene therapy and HIV vaccines from the Merck Research Laboratories in U.S., has been selected on the basis of public invitation for applications both at home and abroad. Two Nobel Prize winners, Robert Huber and Hartmut Michel, were invited to sit on the selection panel.