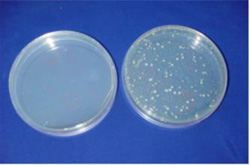 Comparison of antibacterial test, antibacterial stainless steel on the left and conventional stainless steel on the right.
A research group led by Prof.Yang Ke from the CAS Institute of Metals Research in Shenyang, capital of northeast China's Liaoning Province, has succeeded in developing stainless steels with resistance to bacteria.
The researchers have conducted expended experiments on the antibacterial stainless steels they invented in structures of both austenite and ferrite, and produced sheets, tubes, casts and welds in various specifications at a local steel works.
Tests on the bacterial resistance of those products showed excellent results with a killing ratio of bacteria like
E. coli
, and
Staphylococcus aureus
exceeding 99%. They also proved to be highly effective to other bacteria such as
Candida albicans
. Experiments conducted by national drug authorities have confirmed that the stainless steels are safe to human health.
In addition to the antibacterial function, the material is same as regular stainless steel in such properties and performance as mechanical property, corrosion resistance, hot and cold deformation, and welding.