Senior translator QIU Huasheng, deputy director general of CAS Bureau of International Cooperation, and XTBG (Xishuangbanna Tropical Botanical Garden, Chinese Academy of Sciences) director Prof. CHEN Jin headed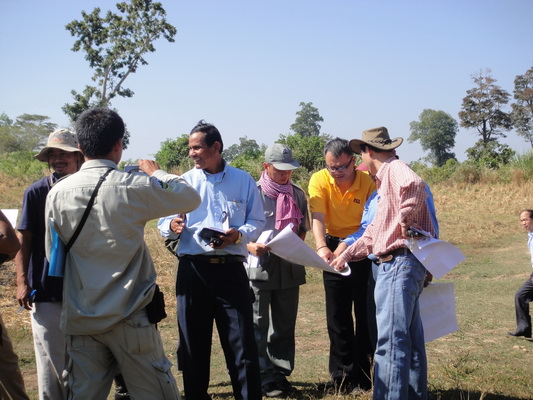 Discussing the master plan of establishing national botanical garden
a CAS delegation to Cambodia on invitation during December 21-26.
Meeting with Dr. Yin Kim Sean, Cambodian vice minister of environment on December 22. The two sides exchanged ideas on the procedures of promoting the survey project of establishing a national botanical garden in Cambodia.
Dr. Mok Mareth, Cambodian Minister of Environment, met the CAS delegation on December 23 with officials of finance and foreign affairs. "Cambodian Ministry of Environment will play an active role in coordinating the preparatory work of the establishment of national botanical garden", said the Minister.
Cambodian officials will be invited to visit XTBG next year, so as to have a better understanding on scientific botanical gardens and their management.
Being sister province of Yunnan Province, Siem Reap has close contact with Yunnan. Officials of Siem Reap said that they would like to give full support for the establishment of national botanical garden in the province.