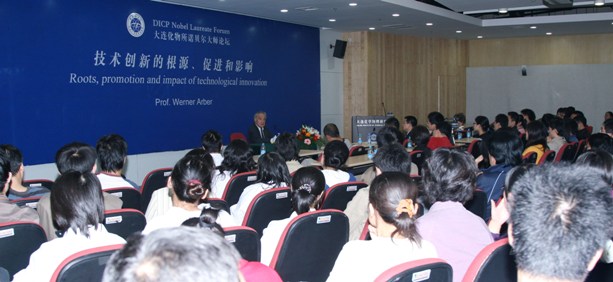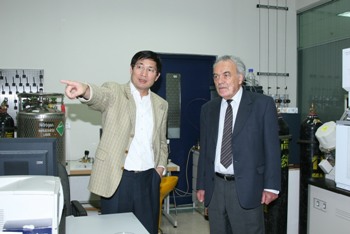 On 17th October, Prof. Wener Aber, Nobel Prize winner, was invited to visit DICP and give a lecture. He was participating the 13th International Bio-Tech Symposium in Dalian then.
  Prof. Aber has initiated a revolution in the research of genes. He discovered a kind of limiting incision enzyme which can break long chain DNA, thus providing a strong means for the separation and reconstruction of genes. For his great contribution, he won the Nobel Prize of Medicine and Physiology in 1978.
  In the "DICP Masters Forum of Nobel Prize Winners", Prof. Aber delivered a lecture on the topic of "Source, Promotion and Influence of Technological Innovation". He talked about research, life and stimulation, which aroused great interest among the DICP scientists and graduate students.
  Then Prof. Aber was invited to visit the DICP laboratories of Oceanic Bio-Products Engineering, High Resolution Separation, Analysis and Metabolics, and Bio-Medicine Materials Engineering of the Bio-Tech Division, as well as the research teams of Synthesis of Zeolitic Materials and Catalytic Applications of the Applied Catalysis Department, and the Inorganic Membrane Catalysis and New Catalytic Materials of the State Key Laboratory of Catalysis. Prof. Aber remarked that he was deeply impressed by the research activities of DICP.