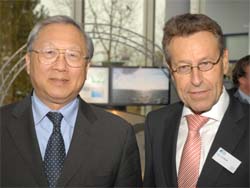 President. Lu Yongxiang (left) meets with Scientific Chairman of GKSS Research Centre Wolfgang Kaysser during the visit.
At the invitation of the Max Planck Society and the Helmholtz Association of German Research Centres, a delegation led by CAS President LU Yongxiang paid a visit to Germany from 11 to 15 December.
With an objective of promoting cooperative studies in the fields of ocean and coastal studies, the CAS delegation visited, from 11 to 14 December, the Helmholtz GKSS Research Centre in Geesthacht and the Max Planck Institute for Meteorology in Hamburg, the Max Planck Institute for Marine Microbiology in Bremen, and the University of Heidelberg.
On 15 December in Berlin, Prof. Lu, who is also vice chairman of the Standing Committee of China's top legislature NPC, met with Prof. Dr. Jürgen Mlynek, president of Helmholtz Association, and signed an agreement on cooperation framework between the two organizations.