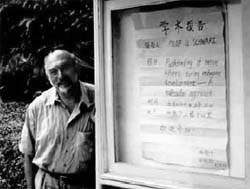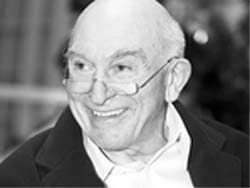 Prof. Uli Schwarz (1934-2006), director of the CAS Shanghai Institute for Advanced Studies (SIAS) and a German working scientist who had devoted himself to S&T cooperation and exchanges between China and Germany, died of heart attack on Dec. 21 in Germany.
A renowned biologist and former director of the Max Planck Society (MPG) Institute for Developmental Biology, Prof. Uli Schwarz was a tireless advocate for Sino-German S&T cooperation and a hard-working scientist in fostering partnership between CAS and MPG for more than two decades.
As early as in the 1980s, he was one of the first MPG scientists who visited Shanghai for several weeks to work with his Chinese colleagues. Joining hands with Prof. ZHUANG Xiaohui, he actively promoted the inauguration of the Max Planck Guest Laboratory at the Shanghai Institute of Biochemistry and Cell Biology. The Lab enables overseas Chinese students to continue their studies started abroad when they returned home. Over the past two decades, more than 1,000 Chinese students and postdocs have worked at the Lab. It is also established reliable contacts European and Chinese scientists.
Prof. Uli Schwarz suggested CAS leaders to use for references the successful MPG experiences in selecting and training young talents and academic leaders, and bringing up a group of young academic leaders through international cooperation. In the 1990s, he initiated the establishment of the independent junior research groups in Shanghai and Kunming. So far, 14 such Groups have been set up in China. As an important instrument for grooming young scientists, the Groups have recruited many promising Chinese scientists from across the world.
Furthermore, he made great efforts in setting up SIAS, which offers a platform for scholars from various countries and different disciplines to present their selected topics and engage in discussions with colleagues and interested individuals. As a founding director of SIAS, Prof. Uli Schwarz insisted that the institute could not simply be a copy of the existing institutes with similar goals, It is located in China and has to find its own course in order to accomplish its goals. Nevertheless, close cooperation with exemplary foreign institutions is very much desired and would be decisive for the projects success.
He also did a lot of work for the establishment of the CAS-MPG Partner Institute for Computational Biology in Shanghai in 2005, which is the first overseas institute co-sponsored by MPG. By recruiting competent scientists from across the world, the institute has forged fruitful cooperation with world-class institutions and is taking on important research projects.
Chinese government honored Prof. Uli Schwarz a national Friendship Award in 2003 to commend his contributive activities and spirit to the development of China's social and S&T progress.