At the beginning of 2011, a young and vibrant man was engaged in the development of OLED for mobile phone screens at a LED company in Hunan, China. At that time, he was in his third year of graduate school without any clear future vision after graduation.
The young man was CAO Hujun, a master's student majoring in Physical Chemistry at Xiangtan University. Through hard work and resilience, CAO eventually climbed the academic ladder. Now, he is an Associate Professor at the Dalian Institute of Chemical Physics (DICP) of the Chinese Academy of Sciences (CAS), where he actively engages in world-class research in hydrogen storage materials.
Path to Academic Research
After completing his master's degree, CAO decided to continue his academic research instead of going to work at an LED Company.
"I want to be a scientist and I believe knowledge can change my life and fate. I could stand on a higher platform and accomplish greater things," CAO said when mentioning the reasons for pursuing a Ph.D..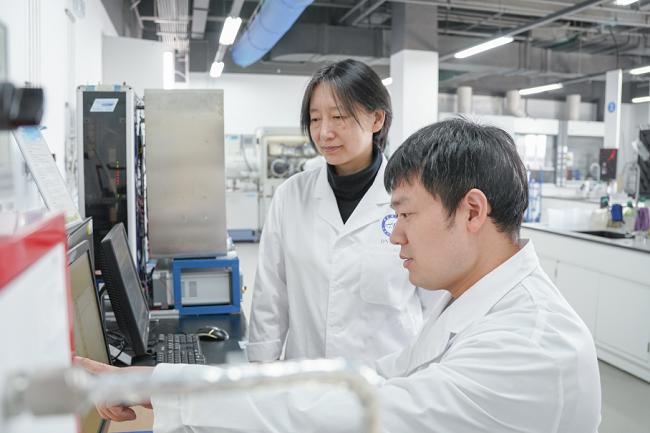 CAO Hujun and Prof. CHEN Ping discussed work in the laboratory (Image by LIANG Xiao)
In the autumn of 2011, CAO joined Prof. CHEN Ping's research team at DICP as a joint training student to pursue his doctoral degree. During his Ph.D., CAO chose to delve into the field of hydrogen storage materials, which is a totally new area for him.
Hydrogen storage in solid or liquid materials that can reversibly absorb and release hydrogen provides a safe and efficient way for hydrogen application. However, lack of efficient hydrogen storage technologies limited the large-scale application of hydrogen.
"I chose a common molecule hydrogen (H2) in daily life for my Ph.D., I always believe hydrogen is an important part of future energy systems. Solving the problem of hydrogen storage would greatly promote the development of hydrogen energy," CAO said.
During his three-year doctoral study, CAO gained a systematic and in-depth understanding of hydrogen storage materials, including material design, synthesis and characterization, performance testing and analysis, etc. This laid a solid foundation for his further research on hydrogen storage materials.
Path to Building a Research Team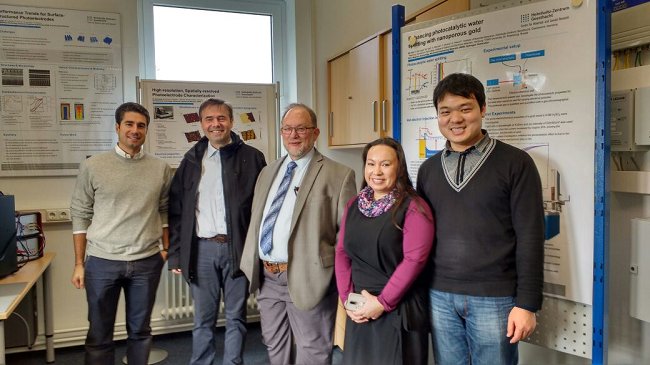 CAO Hujun with his postdoctoral advisor and co-workers (Image credit by CAO)
In 2014, after obtaining his Ph.D., CAO went to Germany for his postdoctoral career at the Helmholtz-Zentrum Geesthacht Centre for Materials and Coastal Research (HZG).
"Upon arriving in Germany, I got in touch with more application-based work, such as practical demonstrations of hydrogen storage materials. This was immensely helpful in getting the whole picture of hydrogen storage materials," said CAO.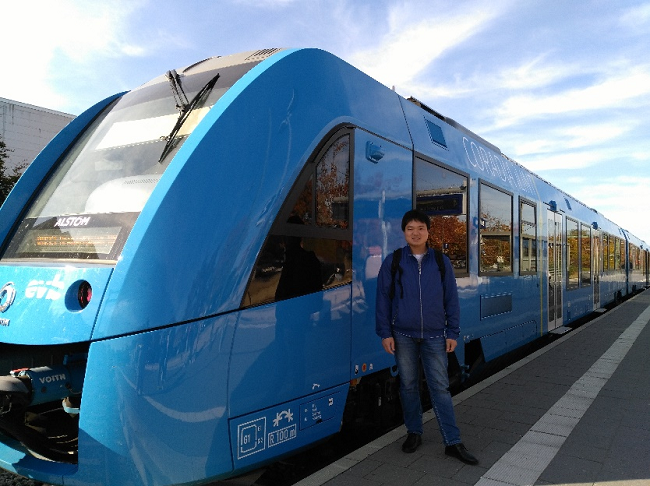 CAO Hujun was in front of the world's first hydrogen-powered train in Germany (Image credit by CAO)
In 2018, with a keen awareness of the enormous market potential and broad development prospects for hydrogen in China, CAO decided to return to China and contribute to the country's hydrogen development. He chose DICP again, joining Prof. CHEN Ping's group as a researcher.
CAO was offered very favorable packages by several universities and research institutes when he decided to return to China.
"At that time, Prof. CHEN planned to set up a subgroup for practical application of hydrogen storage materials, she welcomed me back to DICP. I believed that DICP, a leading institute in China, as well as a world-class institute, could provide me with a much higher platform and help me to realize my dream of accomplishing greater things. Therefore, I chose to join DICP once more," CAO said.
"CAO is an excellent young researcher. He always has the courage to accept challenges and is good at collaborations; he is willing to contribute, to take responsibility, and to be optimistic. All these characteristics would help him to be a fantastic scientist," said Prof. CHEN.
Within Prof. CHEN's team, CAO built his own sub-team, leading them to continue researching hydrogen storage materials.
"Accidentally" Developed a Novel Superionic Conductor
Prof. CHEN assigned a challenging task to CAO when he came back from Germany, that was to develop materials for hydride ion conduction. This idea came from an experimental observation of facile H-D isotopic exchange over a ternary nitride hydride BaCrHN.
In the first two years, CAO and his collaborators tried to synthesize ternary and quartery transition metal nitride hydrides for hydride ion conduction, however, they all had high electronic conductivities.
To solve this problem, CAO and his team attempted to use rare earth metals such as lanthanum. That was because oxhydrides containing lanthanum was reported to be a pure hydride ion conductor.
In this process, CAO had a novel, unexpected, chance discovery.
Initially, they planned to synthesize lanthanum amide. However, they "accidentally" obtained lanthanum hydride, and the lanthanum hydride was measured to be a pure hydride ion conductor and with a highest conductivity at that moment.
"This accidental discovery excited us since it indicated that pure hydride conduction do exist in this byproduct, and it might help us to develop a new hydride ion conductor," CAO said. When he recalls this occasional discovery that happened several years ago, he still cannot contain his excitement.
Finally, they demonstrated a novel technique that transforms lanthanum hydride into a pure hydride ion conductor with record-high conductivities from -40 to 80 ℃.
Their study was published in Nature this April, CAO and Prof. CHEN are the corresponding authors.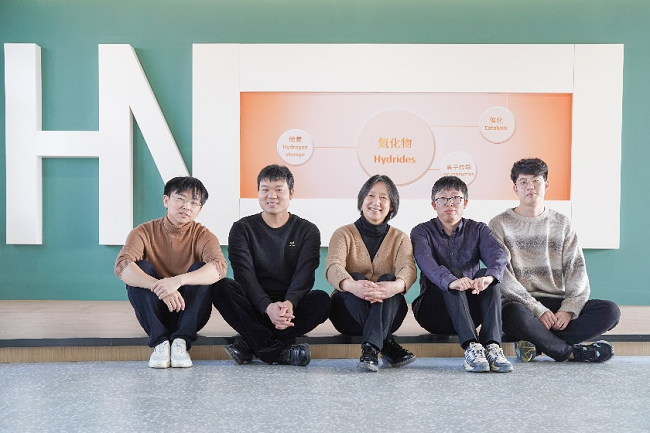 Main authors of the Nature article (Image by LIANG Xiao)
"CAO did a great organization job in this work," said Prof. CHEN.
"When we received the comments of referees in the first round, which included a lot of questions to address and additional data to supplement, CAO could quickly help us clear up the matters and arrange all works of every person," said ZHANG Weijin, first author of the study.
"CAO is not only our advisor but also a friend, he always leaves us with the freedom to explore challenges, meanwhile, provides effective advice at proper time," said CUI Jirong, another first author of the study.
When discussing his future research work, CAO said, "Hydride ion conductors in a superionic conduction state at ambient conditions could pave the way for advanced clean energy storage and electrochemical conversion technologies. However, they are still in infants, and many unknown properties should be explored and investigated."
"We will continue working on this area and exploit more potentialities of hydride ion conductors," CAO said.