[video:20220120- Andrea CAS S&T Coop Award]
"I have had the privilege and joy of working side by side with many excellent scientists from both US and China on harnessing fusion energy that powers the sun and the stars, in a shared vision to provide a clean and abundant energy for all humankind. This experience has taught me that science for the progress of humanity has no boundaries. Continued worldwide cooperation on science's biggest challenges will ensure a bright future for our children and grandchildren."
-- Andrea Garofalo
"Andrea is an easy-going man with a sense of humor. He is our good old friend, and we always take him as one of us."
-- GONG Xianzu, Chief Operator of Experimental and Advanced Superconducting Tokamak (EAST)
At the annual working conference of the Chinese Academy of Sciences (CAS) held on January 19, 2022, ZHANG Yaping, Vice President of CAS, announced the winners of the 2021 Award for International Scientific Cooperation of the Chinese Academy of Sciences. More than 6,000 directors and scientist from over 100 countries witnessed the moment virtually. Professor Andrea Garofalo, was awarded for the prize, along with another scientist from USA.
Andrea Garofalo, recommended by Hefei Institutes of Physical Science (HFIPS), is a senior scientist at the US national fusion facility DIII-D and the deputy director of the China-US Fusion Energy Research Center. He came to Institute of Plasma Physics (ASIPP), HFIPS almost every year, introducing EAST to many USA scientists. "I like Science Island," said Andrea Garofalo, "I had a good time working with researchers in ASIPP to explore the clean energy."
In the following interview, he explained how the cooperation went on in the past 17 years.
What is the history and effectiveness of the cooperation between the two sides? Which aspects impressed you the most?
Chinese and US researchers have been working together at DIII-D and ASIPP, HFIPS for more than 20 years, we have become each other's most valuable partner, and have achieved exciting and remarkable results in plasma physics and technologies.
The reasons for the effectiveness of the cooperation between our two sides, are, in my view, that we have a shared vision in realizing this carbon-free and bounty fusion energy for our human kind and for our children; this collaboration is mutual beneficial and fruitful to two countries, that we have a great joint team of scientists, we have built up absolute trust as well as deep friendship during the course.
What impressed me the most is that this group of great scientists from China and USA are working together on a most challenging research, creatively and continuously, despite all the difficulties of whatever. We are like a family.
What are your expectations and blessings for future cooperation between the two sides?
Fusion research is entering a very exciting time. After decades of hard work, several machines are being designed or built around the world to demonstrate energy gain. One of these machines is the ITER tokamak, a huge example of successful international cooperation being built by China and the US together with Europe, Japan, Russia, South Korea, and India. We are at dawn of fusion energy.
My biggest dream, professionally, is that China and the US will cooperate on building a new demo machine, the most advanced one. At present, we are working together on the design of this machine, a tokamak called BEST (Burning Plasma Experimental Superconducting Tokamak).
What does the Award for International Scientific Cooperation of the Chinese Academy of Sciences mean to you?
As the only US scientist, and the only fusion scientists winning this year's Award for International Scientific Cooperation of the Chinese Academy of Sciences, it is not only a great honor for me, but also an honor for General Atomics, the company that I work for, and for the whole US fusion community.
I hope this will encourage both Chinese and US governments to continue promoting international S&T cooperation and exchanges, because joint efforts are needed to tackle the biggest challenges confronting humankind, and ensure a bright future for our children and grandchildren.
More about Andrea Garofalo:
Andrea Garofalo pioneered the area of high confinement tokamak plasma physics and magnetohydrodynamic instability, and promoted the development of high fusion gain advanced steady-state operation scenarios for worldwide tokamak devices.
Andrea Garofalo devoted himself to pushing forward China-US fusion science exchange and cooperation. He's made outstanding contributions in the area of magnetic confined fusion in both countries, highlighted by the establishment of a bilateral high-level workshop, opening up of new research fields, development of long-term cooperative mechanisms, and cultivation of excellent young scientists.
The Award for International Scientific Cooperation of the Chinese Academy of Sciences was established in 2007 to recognize foreign scientists in long-term cooperation with CAS, making outstanding contributions to major technology breakthrough, constructing big-science facilities, and training Chinese S&T talents.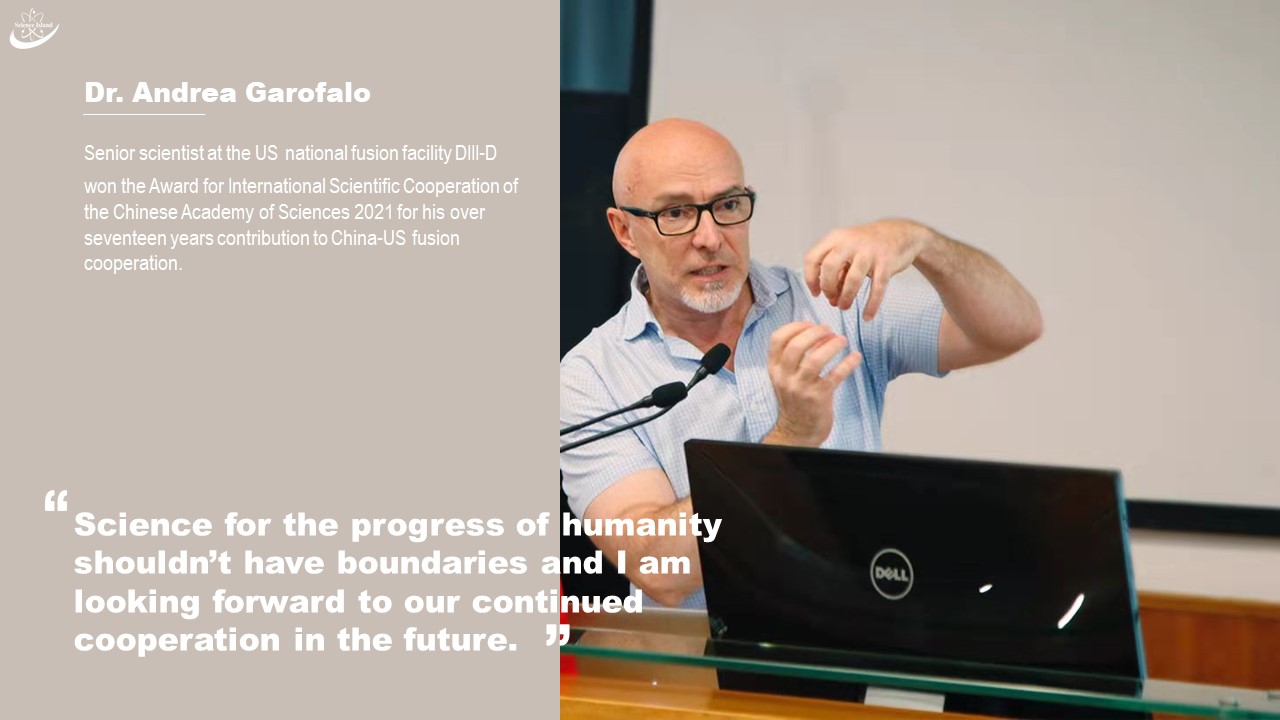 Andrea Garofalo is one of the two winners of 2021 CAS Award for International Scientific Cooperation. (Image by HFIPS)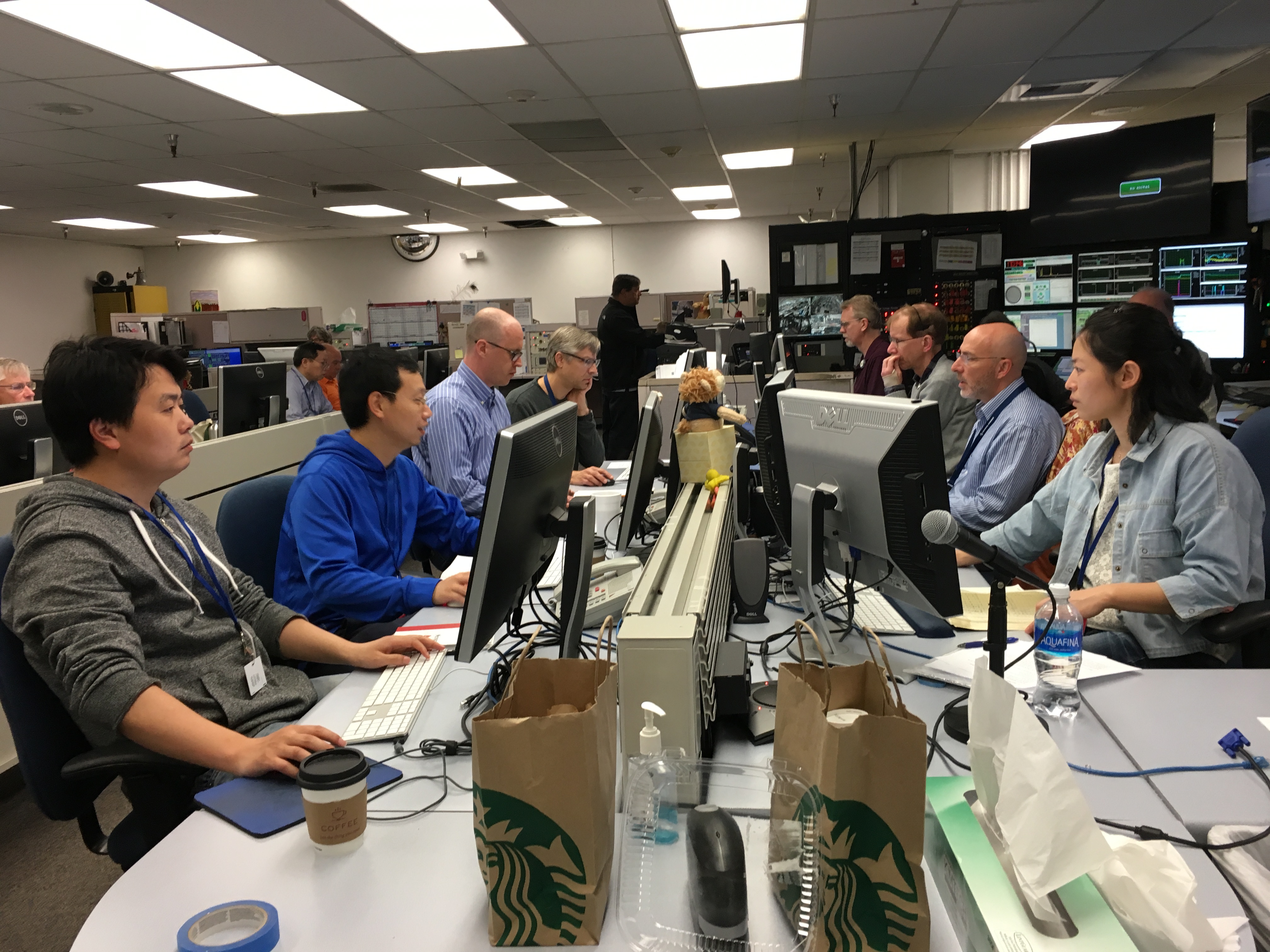 Andrea Garofalo was working with researchers in ASIPP, HFIPS. (Image by HFIPS)