Being awarded as a CAS-PIFI was a great honor and I was very excited for having the chance and opportunity to work in China in an excellent, high-qualified scientific atmosphere. This award provided a great opportunity for me to extend my scientific work in a broader topic and exchange my experience and expertise with colleagues of the Institute of Subtropical Agriculture of the Chinese Academy of Sciences.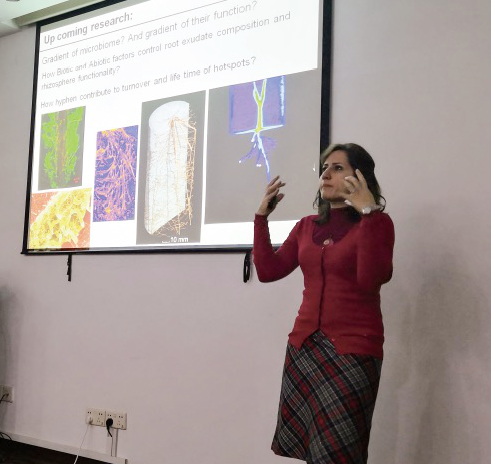 For a long time I have been aware that China promotes science with huge investments and efforts. While a sound financing of science is a prerequisite of excellence, it is not the only requirement. Other requirements are a lean bureaucracy as well as the enthusiasm and high quality of the scientists and students working in academia, such as those of the Chinese Academy of Sciences. During my stay in China and in a CAS institute, everything always went smoothly. The staff and students at the Institute of Subtropical Agriculture, Chinese Academy of Sciences were very hard working, helpful and friendly. The work efforts of our colleagues were always driven by seeking the best progress in science. This concerns both aspects, progress in basic science and development of practical solutions of environmental problems to the benefit of the society. The colleagues at the Institute of Subtropical Agriculture are perfectly addressing both issues. What I like very much is the openness in creating new ideas and in finding ways to realize them. In these discussions, students were always involved in an atmosphere that was characterized by both challenge and encouragement. This provides a very good training for them and is the prerequisite for excellent PhD and PostDoctoral studies.
I would judge the Institute of Subtropical Agriculture as an excellent group, a hotspot in agricultural science. Besides a very solid number of joint papers, another result of the visiting scientist funding was development of new approaches in the field and at the level of an Agro-ecosystem. I hope that our joint activities will also extend into collaborative projects. With these activities, my colleagues and I are hoping to provide a small contribution to the scientific New Silk Way.
Living in China as a young scientist was an unforgettable experience. People in China are extremely friendly and helpful as were my colleges in the Institute of Subtropical Agriculture. I could learn about China's great history, culture and very amazing food. China has very diverse landscape and natural conditions, which I think make the country very special. I hope that in future I will have the chance to come back to China and work once more within CAS institutes, becoming more close and familiar with the marvelous history and culture of China.
Regardless of the massive number of microbes in soil, they occupy only a small part of its volume. Most microorganisms form colonies and biofilms and generate aggregate and cluster micro-sites to share nutrients and be sheltered from harmful factors in the environment. Consequently, the main relevant biogeochemical processes take place in these micro-sites, which are consequently called hotspots. The most impressive and rewarding work that we have done together with the Institute of Subtropical Agriculture Chinese Academy of Sciences was to localize, visualize and identify the presence and function of these microbial hotspots in soil. This was an extremely innovative and frontiers study which was performed for the first time. We do believe that our approach and findings will open new directions and shed new light on soil functions in agro-ecology.
In addition, for the first time, we performed visualization of enzyme activity at the field scale in situ during my stay at CAS.
Overall, I think, all of the work and research that we established and performed was very innovative and successful. Our research results, which were published in highly ranked international journals, strongly improved our understanding of the processes and functions in an agro-ecosystem.
The Chinese Academy of Sciences is very strong in fostering not only national research but also scientific networking with partner countries. I would like to strongly encourage the Chinese Academy of Sciences to continue this way. Quite a lot of the joint research of China and Germany is coordinated by the Sino-German center in Beijing. From my point of view, it would be very beneficial, if this center could get a bigger budget for funding joint research activities. Of course, this would include both partner countries.
Personally, I would be very grateful if the collaboration with the Institute of Subtropical Agriculture of the Chinese Academy of Sciences could be continued and expanded. One idea of my Chinese collaborators and me is the establishment of joint projects and workshops in plant-soil microbiome interaction of Agro-ecosystems. Perhaps there will be an opportunity to discuss this further in the framework of the Sino-German Center or directly between the Chinese Academy of Sciences and the German Science Foundation.
Finally, I would like to express my sincere gratitude to the Chinese Academy of Sciences for funding my stays as a visiting scientist at the Institute of Subtropical Agriculture of the Chinese Academy of Sciences.