The Late Ordovician mass extinction is generally believed to be caused by dramatic changes in climate, i.e., the end Ordovician (Hirnantian) glaciation.
Corals are sensitive to climate changes. Revealing their spatial and temporal evolution at the end of the Ordovician will help understand the process and mechanism of this extinction event.
Recently, Dr. WANG Guangxu from the Nanjing Institute of Geology and Palaeontology of the Chinese Academy of Sciences (NIGPAS) and his collaborators systemically studied corals from the uppermost Malachis Hill Formation (uppermost Katian) in central New South Wales.
The study was published in Alcheringa on June 23. It sheds light on coral features immediately prior to the Late Ordovician mass extinction.
The researchers described 10 species, including 2 new species, of 7 genera in the coral fauna, and clarified overall features of this fauna combining published data.
These descriptions, which complete knowledge of the entire fauna collected over 50 years, enable interesting conclusions to be drawn regarding palaeogeographic affinities of this youngest in situ Ordovician coral fauna known from eastern Australia.
Its remarkable similarities to contemporaneous coral faunas from South Tien Shan and the Chu-Ili Terrane indicated strong connections between eastern Australia and the latter two terranes, supporting their positioning in equatorial latitudes of eastern peri-Gondwana.
However, it is puzzling that fewer similarities exist between the eastern Australian coral fauna and those from rocks of Katian age in southeast China. This is probably due to either a slightly younger age of the former fauna or a relatively higher palaeolatitudinal position of South China.
This research was jointly supported by the National Science Foundation of China and the Strategic Priority Research Program (B) of the Chinese Academy of Sciences.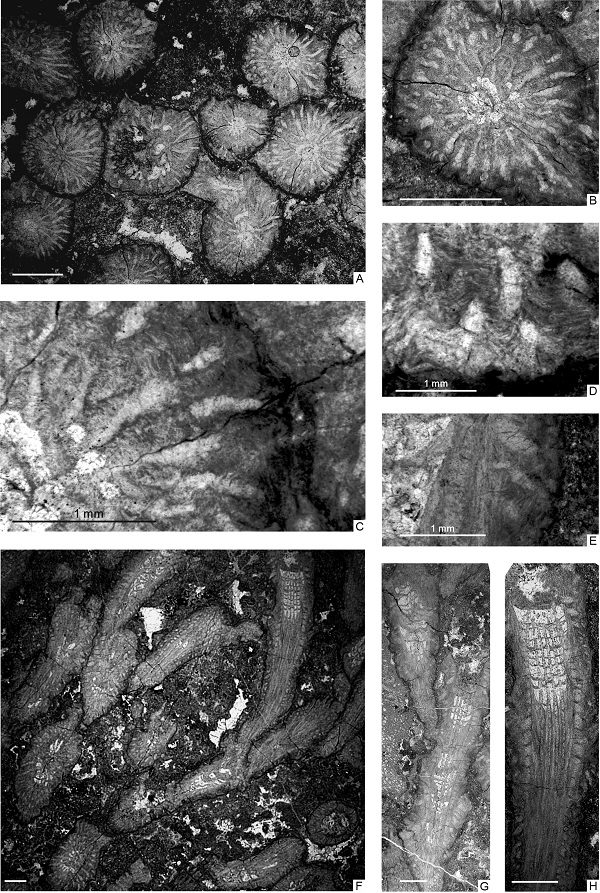 A new rugose coral Bowanophyllum ramosum documented from the Malachis Hill Formation of central New South Wales, eastern Australia (Image by NIGPAS)