With the development of wireless communication from 5G to Beyond 5G and 6G, the design of high-quality-factor (Q) acoustic resonators and high-performance filters, working at the frequency of 6 GHz, will become the hotspot.
A research team led by Prof. ZUO Chengjie from the University of Science and Technology of China (USTC) of the Chinese Academy of Sciences (CAS) designed a microelectromechanical system (MEMS) resonator with ultra-high Q based on lithium niobate (LiNbO3) thin film.
Compared with the previously reported acoustic resonators, the quality factor at parallel resonance (Qp), a type of Q factor, has been increased by two orders of magnitude.
The study was published in IEEE Electron Device Letters on May 16.
Q is a crucial factor in radio frequency filters. It represents the magnitude of the resonant frequency related to the bandwidth, and thus a higher Q indicates a narrower bandwidth and better isolation.
However, in the domain of acoustic resonators, Q increases with much difficulty as the frequency turns higher. LiNbO3 has been applied to MEMS resonators at 3GHz and below because of its good piezoelectric properties, but its usage has not been extended to higher frequency ranges.
In this work, the researchers fabricated a novel MEMS resonator by implementing x-cut single-crystal LiNbO3 thin film on a SiO2 substrate.
Changing the Euler angle, which describes the angle between the y axis and the wave's propagation direction, they found that when the angle is around 15°, the resonator exhibited an upmost Qp factor, exceeding 100,000. The main vibration mode of this device was 6.5 GHz.
This work paves the way for designing 6G communication devices.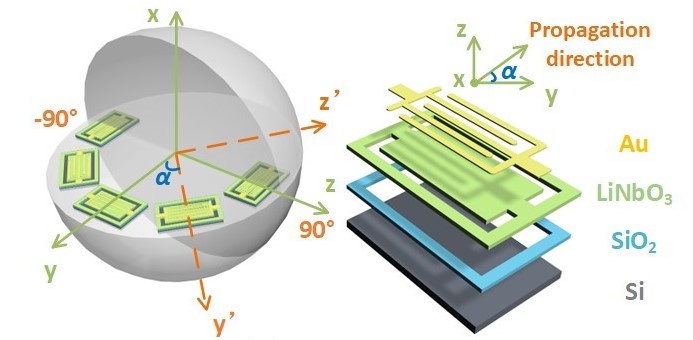 Structural design and Euler angle rotation of the LiNbO3-based resonator. (Image by DAI Zhongbin et al.)