Scientists proposed an effective method to construct a long-period and high-stability three-dimensional surface-enhanced Raman scattering hotspot matrix under the assistance of glycerol.
This work was conducted by YANG Liangbao and his team with Center of Medical Physics and Technology, Hefei Institutes of Physical Science.
Earlier in their research work, they have developed a dynamic surfaced-enhanced Raman spectroscopy (D-SERS) strategy through solvent evaporation induced self-assemble of nanoparticles in water system to achieve high sensitive response.
However, the rapid evaporation rate of water leads to short time and poor stability of three-dimensional hot spots. Therefore, the team pushed their research further by proposing a method to construct a 3D SERS hotspot matrix with long-period and highly stable with glycerol.
Using Ag NPs and glycerol aqueous solution as dynamic-SERS substrate, they created a liquid environment with the low volatilization rate of glycerol, enabling the Ag NPs hotspot matrix stable for a long time from ten seconds to 20 minutes.
In addition, the Ag NPs spacing is not fixed when it put in liquid environments and only could be balanced with a small range through the interaction of van der Waals gravity and electrostatic repulsion.
In their work this time, the number of 3D Ag NPs hotspot matrix was increased, and SERS detection sensitivity was greatly improved, realizing highly sensitive and stable detection of Marine biological toxins, agricultural residues and drugs at the nM level.
According to the team, the long-period, high-stability three-dimensional hotspots reduced the occurrence of accidental factors caused by the short existence time of hotspots in the water system, making the experiment could be applied for many fields such as actual crime scene analysis, medical diagnosis and food safety is broader.
The above research work was funded by the national science and technology major special project and the Anhui science and technology police project.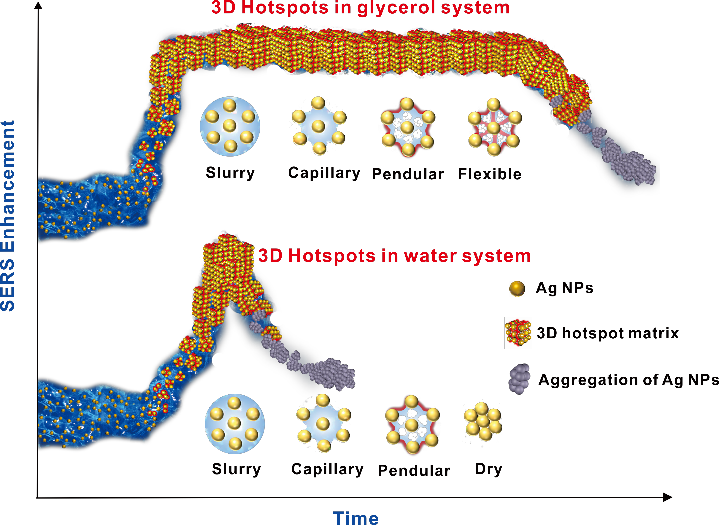 Schematic diagram of three-dimensional surface-enhanced Raman scattering hotspot matrix in glycerol and water system. (Image by GE Meihong)