The newly discovered black phosphorus quantum dots (BPQDs) presents an intriguing advantage in biomedicine. It has a high ratio of surface to volume for drug loading. As a highly efficient photosensitizer for unique electronic structures, it can also generate singlet oxygen for photodynamic treatment (PDT).
Thus, BPQDs can reduce economic problems and ecological concerns, and degrade in aqueous medium, forming nontoxic phosphate and phosphonate. Phosphorus, which makes up approximately 1% of total body weight in humans, is an essential element that is inherently biocompatible. Therefore, BPQDs is considered suitable for developing novel delivery systems for cancer treatment.
Recently, a research group led by professor LIU Jun from Shanghai Institute of Optics and Fine Mechanics of the Chinese Academy of Sciences, had made achievements on targeted dual-modality biomedical imaging and cancer treatment research based on BPQDs. Their result was published in Nanophotonics.
In the study, they synthesized and functionalized BPQDs by targeting moieties (PEG-NH2-FA), which were further loaded with anticancer drugs (doxorubicin) for photodynamic–photothermal–chemotherapy. The precise killing of cancer cells was achieved by linking BPQDs with folate moiety (folic acid), internalizing BPQDs inside cancer cells with folate receptors and NIR triggering, without affecting the receptor-free cells.
The new type of drug delivery system was named FA-PEG@BPQD@DOX. The in vitro experiments confirmed that the agent exhibited an efficient photokilling effect and a light-triggered and heat-induced drug delivery at the precise tumor sites.
Furthermore, the nanoplatform displayed good biocompatibility and could effectively obliterate tumors in nude mice, showing no noticeable damages to noncancer tissues.
Importantly, this nanoplatform can inhibit tumor growth through visualized synergistic treatment and photoacoustic and photothermal imaging. The present design of versatile nanoplatforms can allow for the adjustment of nanoplatforms for good treatment efficacy and multiplexed imaging, providing an innovation for targeted tumor treatment.
This work was supported by the National Natural Science Foundation of China and the Shanghai Sailing Program.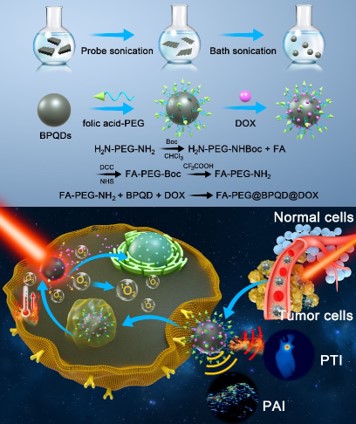 The schematic of the preparation of the FA-PEG@BPQD@DOX nanocomposite and its anticancer mechanism. (Image by SIOM)