A research team led by Prof. LIU Sijin from the Research Center for Eco-Environmental Science (RCEES) of the Chinese Academy of Sciences has recently found that exogenous fine particles can invade the brain from the lung, suggesting the detrimental effects of exogenous particles and air pollution on the central nervous system. Results were published in PNAS on June 22.
Recent evidence indicates the likely injuries in the brain arising from extended exposure to polluted air (especially the particulate matters, PMs), leading to consequent brain disorders, such as neurodegenerative diseases and behavioral disorder symptoms. Although the brain is protected by a stringent defense line, the blood-brain barrier, the direct intrusion of PMs into the brain through various pathways has been speculated. In specific, whether the inhaled atmospheric PMs could translocate from blood to the brain ventricle needs to be elucidated.
In this study, the researchers uncovered various fine particles in human cerebrospinal fluids taken from patients undergoing brain surgeries, and through mapping chemical and structural fingerprints, they identified these particles as commonly found particles, such as those containing iron and calcium, and other previously unreported components, such as malachite and anatase.
Accordingly, they designed in vitro and in vivo models to unveil the possible translocation pathway of inhaled fine particles from the lung to the brain through blood circulation. The dedicated biodistribution and mechanistic studies both proved the possible transport route from the lung into the brain.
In addition, they obtained the retention kinetics of inhaled fine particles in mice, indicating a much slower clearance rate of localized exogenous particles from the brain than from other main metabolic organs.
"These findings support the risks and detrimental effects from particulate pollution to the central nervous system," said QI Yu, first author of the study.
This study was supported by the National Natural Science Foundation of China, RCEES and Shandong First Medical University.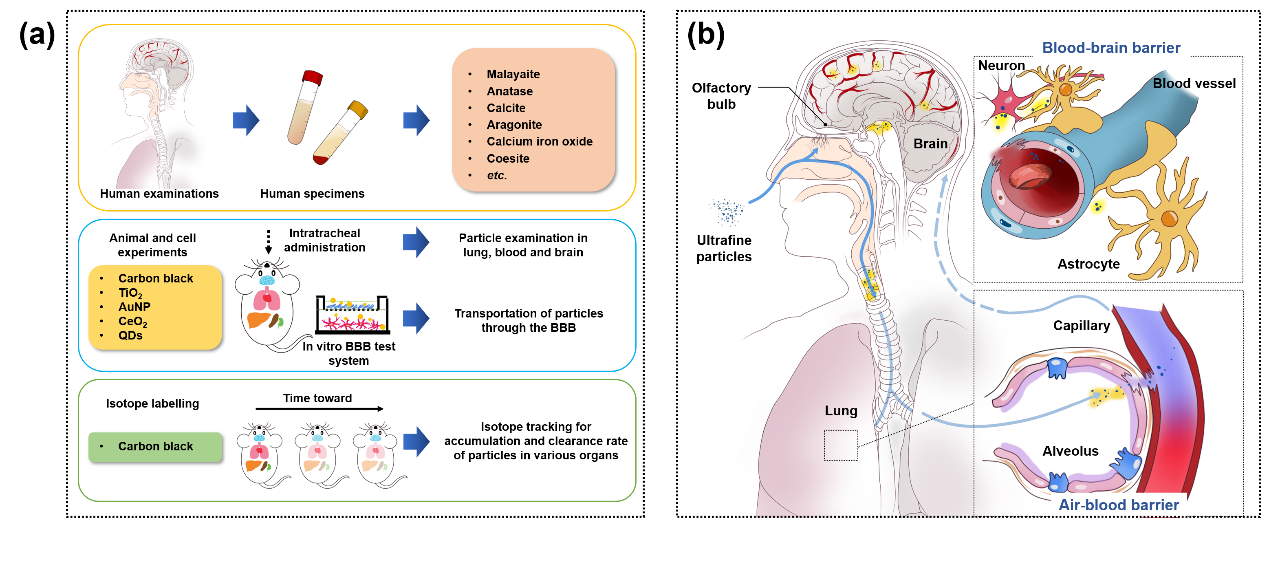 A. Schematic diagram illustrating the integration of in vitro and in vivo approaches to explain the observations of exogenous fine particles in the central nervous system of human patients; B. Plausible mechanisms underlying the passage of inhaled exogenous particles into the brain. (Image by RCEES)