Researchers from the Institute of Oceanology of the Chinese Academy of Sciences (IOCAS) observed strong current shift at the entrance of Indonesian Seas.
Their findings were published in Journal of Physical Oceanography.
Two western boundary currents (WBCs), the Mindanao Current and the New Guinea Coastal Current/Undercurrent, meet at the entrance of the Indonesian seas, forming the so-called water mass crossroads of the Global Ocean Conveyer Belt, which is important to global climate.
Subsurface moorings have been deployed in the eastern Indonesian Seas according to the cooperative agreement between IOCAS and the Research Center for Oceanography, Indonesian Institute of Sciences (RCO/LIPI).
The researchers investigated the seasonal movement of the Mindanao Current retroflection based on the three moorings deployed in the channel between the Talaud and Halmahera Islands (TH Channel) from December 2016 to September 2018.
The moored current meters showed that the currents in the TH Channel were northeastward in boreal winter and southwestward in summer in the upper ocean. These observations evidenced strong seasonal movement of the Mindanao Current retroflection. This is also supported by satellite sea level and ocean color observations, showing a cyclonic intrusion into the northern Maluku Sea in boreal winter whereas a leaping WBC north of the Talaud Islands in summer.
The current shifting can be explained by the nonlinear collision of the two WBCs, which are subject to bifurcation and hysteresis.
This study was supported by the National Key Research and Development Program of China, National Natural Science Foundation of China, the Strategic Priority Research Program of the Chinese Academy of Sciences, Pilot National Laboratory for Marine Science and Technology (Qingdao), and the Shandong Provincial projects.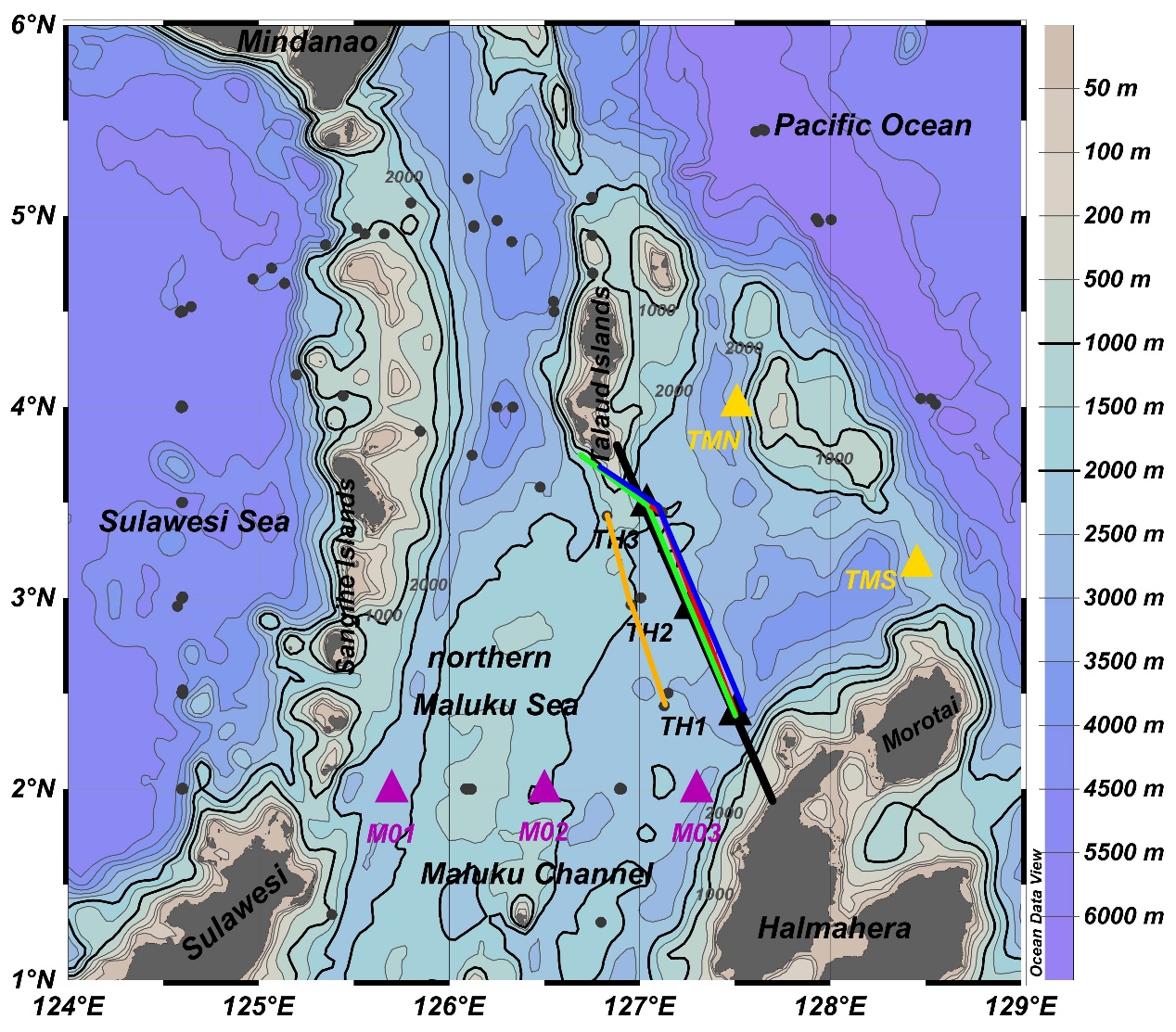 TH Channel mooring locations (Image by IOCAS)