To mitigate climate change impacts, the Paris Agreement set a goal to "hold the increase in the global average temperature to well below 2°C above pre-industrial levels and pursue efforts to limit the temperature increase to 1.5°C, recognizing that this would significantly reduce the risks and impacts of climate change".
Even with a given global warming level of 1.5°C and 2°C, the associated climate change and the differential warming impacts of the 0.5°C are strongly dependent on how the warming target is achieved, according to a study recently published in Earth's Future. The research reveals different extreme climate projections arising from modeling strategies that are used to achieve the 1.5°C and 2°C warming targets.
To assess the warming impacts, the scientists used climate models to achieve these warming scenarios based on various modeling strategies, including transient atmosphere-ocean coupled simulations, short-term stabilized coupled simulations, and atmosphere-only simulations given a prescribed warming boundary.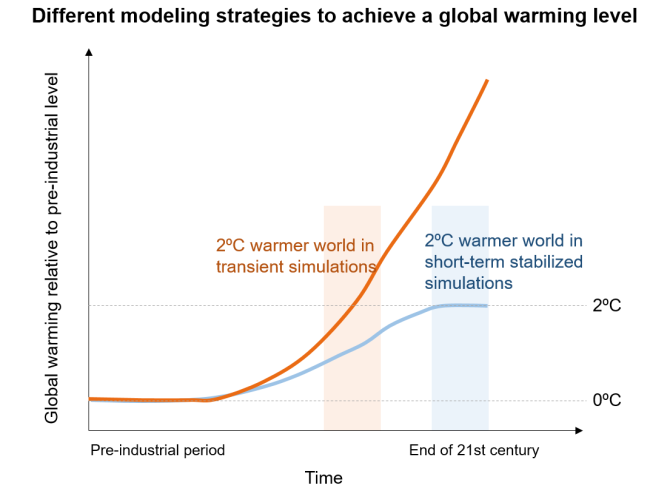 Schematic diagram of different modeling strategies to achieve a global warming level (e.g., 2°C warming). The red curve indicates transient warming simulations and the blue curve indicates short-term stabilized simulations. (Image by IAP)
"While modeling evidence consistently point to reduced impacts from climate extremes on a global scale, if global warming is limited to 1.5°C instead of 2°C, decision-making would require adequate information on uncertainty ranges in projections, particularly the worst-case outcomes," said ZHOU Tianjun, the corresponding author of the study.
ZHOU is a senior scientist at the Institute of Atmospheric Physics (IAP) and CAS Center for Excellence in Tibetan Plateau Earth Sciences in the Chinese Academy of Sciences. He is also a professor at the University of Chinese Academy of Sciences.
To assess the methodological uncertainty in projected warming impacts, ZHOU and his team compared three sets of 1.5/2°C warming simulations with different modeling strategies based on a state-of-the-art climate model, CESM-CAM5.
"In terms of regional extreme climate change, there are different 1.5/2°C warming states, depending on model setups," said ZHANG Wenxia, the first author of the study and a scientist of IAP. "For hot and cold extremes, the model-setup dependency is large in northern high latitudes. For wet and dry extremes, large methodological uncertainty is expected scattered over the globe."
According to the study, the diverse regional changes were directly related to how the 1.5/2°C warmer world was achieved in simulations, dominated by transient versus quasi-equilibrium responses, different external forces, in particular aerosols, and prescribed boundary conditions.
These results provide a better understanding of the methodological dependency in assessing climate impacts associated with global warming targets.
"Aware of the methodological uncertainty, we need to interpret carefully the projected climate impacts in light of framing of model setups," ZHOU suggested. "The projection uncertainty, particularly the worst-case outcomes, needs to be taken into account in adaptation planning, for example, in designing of infrastructures and water management which are closely related to wet and dry extremes."
The study was jointly supported by the National Key Research and Development Program of China, Chinese Academy of Sciences, National Natural Science Foundation of China and China Postdoctoral Science Foundation.