The outbreak of COVID-19 disease has affected normal life of people all over the world. Despite the negative aspects of the pandemic, reduced human activities provided a unique opportunity to evaluate reductions in anthropogenic NH3 emissions.
Researchers led by Dr. PAN Yuepeng from the Institute of Atmospheric Physics (IAP) of the Chinese Academy of Sciences determined how NH3 concentration changed during the Spring Festival in 2019 and 2020 at both urban (Beijing) and rural (Xianghe) sites on the North China Plain.
"We don't think the finding in rural areas is surprising due to the idle agricultural activities during Spring Festival. However, the major source of ammonia in urban Beijing was found to be combustion sources rather than agricultural emissions," said Dr. PAN.
In an earlier study published in
Advances in Atmospheric Sciences
, Dr. PAN and his group tracked and corrected isotopic signatures of ammonia sources with updated active sampling. They found that that non-agricultural emissions contributed to 66% of ammonia in urban Beijing.
While debate continues regarding ammonia sources in the urban atmosphere, the lockdowns that canceled Spring Festival celebrations provided an unprecedented opportunity to check whether fossil fuel combustion is a major source of ammonia in the air within urban regions. Ideally, relatively low ammonia concentrations should be observed if vehicular emissions are reduced due to travel restrictions during the Spring Festival.
"In addition to nitrogen isotopic evidence, the new finding in lockdowns offers additional insight for the prioritization of future clean air actions on ammonia reduction," said Dr. PAN. However, quantifying this unique scenario remains challenging as meteorological processes may mask the effective change in observed ammonia concentrations.
Pan and his collaborators introduced machine learning algorithms to models that separated these meteorological influences. They confirmed that the actual atmospheric ammonia concentration dropped to a new minimum during the 2020 Spring Festival at both urban (Beijing) and rural (Xianghe) sites.
In a scenario analysis without lockdowns, ammonia concentration calculations were 39.8% and 24.6% higher than the observed values in 2020 at urban and rural sites, respectively.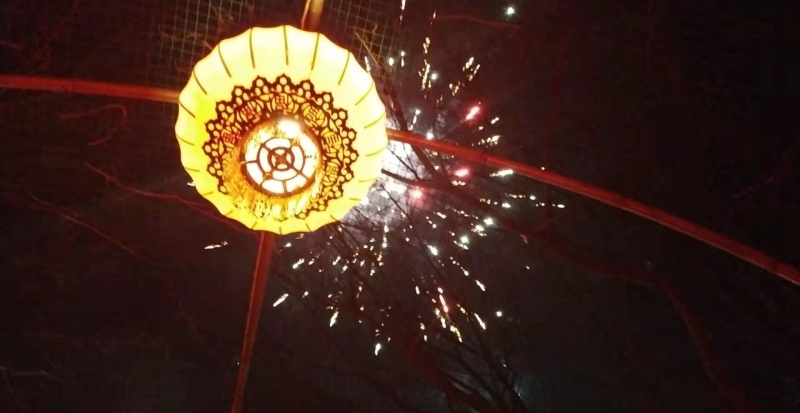 Celebration of Spring Festival. (Image by LIN Zheng)
"Future control strategies should consider the emissions of ammonia from the transportation, industrial and residential sectors, considering that agricultural emissions are minor in cold seasons," said PAN.
The significant difference between the two sites indicates a larger reduction of ammonia emissions in urban areas than rural areas due to lockdown measures of COVID-19 which have reduced human activities.