Local reaction environment of catalyst is of great significance in electrode reactions. However, it is difficult to engineer or investigate such local environment.
In a study published in Nature Communications, a research team led by Prof. YAN Wensheng and Researcher SUN Zhihu from the University of Science and Technology of China (USTC) of the Chinese Academy of Sciences proposed a strategy to improve catalytic activities by creating local acidic reaction environment of catalysts. Efficient hydrogen evolution reaction (HER) of Pt catalyst in alkaline solution was realized.
With Mg-MOF as precursor, the researchers synthesized Ptδ- nanoparticles loaded on Vo-MgO nanosheets through a two-step hydrothermal-annealing method, and applied the catalyst for HER in alkaline medium. The electrochemical test demonstrated that Pt/MgO catalysts displayed extraordinary HER activity compared with commercial Pt/C catalyst.
The observations of operando Raman, synchrotron radiation infrared and X-ray absorption spectroscopy confirmed the existence of Ptδ- and local acidic environment.
In addition, the acquired HER catalytic activity of Pt/MgO in alkaline medium was close to that of Pt/C in acidic medium. The researchers proposed that Vo-MgO boosted the dissociation of H2O and the formation of Ptδ- species, and H3O+ migrated toward and accumulated around Ptδ- due to electrostatic attraction.
The local acidic environment provided good reaction conditions for Pt in alkaline electrolytes, realizing efficient HER. Combining experimental results with theoretical calculations, the researchers proposed a micro mechanism to explain the superior HER performance of Pt/MgO catalyst in alkaline medium.
This study sheds new lights on energy, environmental science and other key solution-dependent fields.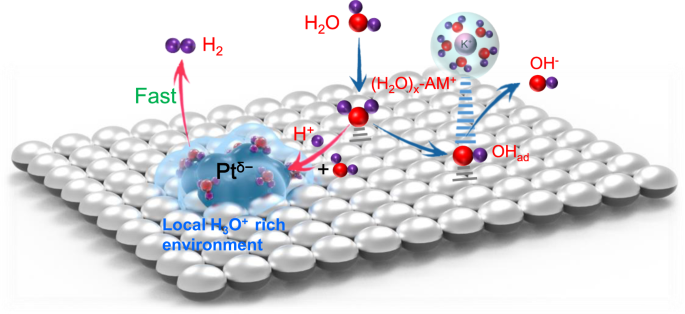 Illustration of Reaction mechanism. (Image by YAN's team)