The internal motion of molecular machines in the aggregative state could be characterized using spectroscopic methods such as nuclear magnetic resonance (NMR). However, capturing the dynamic behavior for molecular machines at the single-molecule level is still a challenge.
In a study published in Nano letters, Prof. CHEN Zhongning's group from the Fujian Institute of Research on the Structure of Matter (FJIRSM) of the Chinese Academy of Sciences, in collaboration with Prof. HONG Wenjing's group from Xiamen University, captured the rotation of one molecular crank by single-molecule conductance.
The researchers proposed a new strategy that the conductance variation is monitored during the molecular rotation at the single-molecular scale by using scanning tunneling microscopy break junction (STM-BJ) technique.
They designed and synthesized three crank-shaped molecular rotators with methylthiols groups to assemble metal-molecule-metal junctions between gold electrodes. The conformation flipping between syn- and anti- could be fulfilled by two naphthyl groups rotating freely along the 1,3-butadiynyl axis.
Based on theoretical calculations, the researchers analyzed the rotation of these molecular rotators by the scanning of potential energy surface, and calculated the conductance influenced by the conformation flipping using the transmission coefficient. Using the STM-BJ technique, they identified the rotation of the rotators by the low and high conductance which resulted from the conformation flipping corresponding to the syn- and anti- conformation.
Besides, the researchers revealed that the conductance fluctuation is attributed to the intra-orbital interference variation caused by the frontier orbital energy shift with the conformation flipping.
The finding of this study is a validation that measuring the single-molecule conductance is a rational method to monitor the rotation in molecular machine, and provides a possible theory that the molecular rotation modulates the single-molecule conductance, which is a potential structural basis for the design of molecular devices.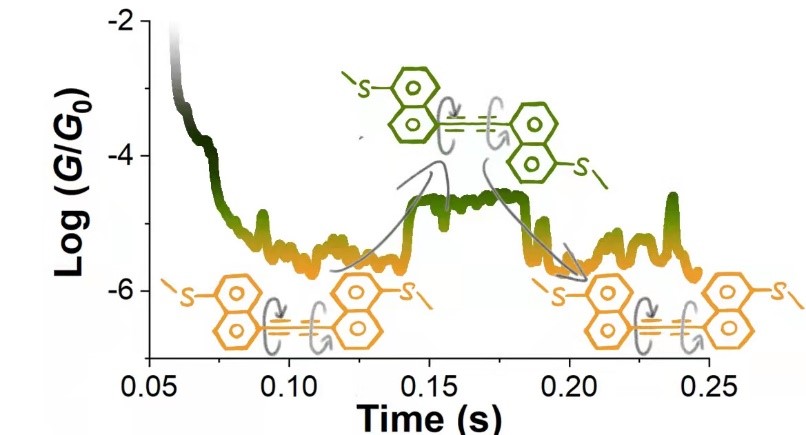 Conductance variation during the molecular rotation (Image by Prof. CHEN's group)