Porous organic cages (POC), one of a new born porous materials, have attracted much attention and been widely studied. However, most of them are linked by dynamic and reversible imine (C=N) and B-O bonds, which are prone to hydrolyze and cause structure collapse, limiting their applications in moisture or water condition. Therefore, it is of great significance to construct water-stable POC materials in a simple way.
Calix[4]resorcinarene (C4RA), a kind of macrocyclic cavitand with an intrinsic cavity and eigh polar upper-rim phenolic groups, has been demonstrated as excellent building block to construct cage compounds with rich cavity sizes and shapes, which can encapsulate guests from small gases to large molecules.
In a study published in Chemical Science, a research group led by Prof. YUAN Daqiang from the Fujian Institute of Research on the Structure of Matter of the Chinese Academy of Sciences reported seven new water-robust POCs linked by hydrazone bonds, which were all constructed from the same concave-shaped tetraformyl-functionalized C4RA (C4RACHO) scaffold and different dihydrazide linkers.
The researchers determined the structures of the seven new water-robust POCs by single-crystal X-ray crystallography, demonstrating their window diameters and cavity volumes could be precisely tuned within a specific value range.
They also confirmed their water stability by measuring proton nuclear magnetic resonance spectroscopy of POC samples soaked in water for a week, and the unchanged signals indicated the robustness of cages in water.
According to the researchers, the stable nature of the POCs was attributed to the adjacent nitrogen atom of C=N bond of hydrazone, which can form charge-separated resonance structure (-C--N=N+-. This diminishes the electrophilicity of carbon atom, and thus makes hydrazone robust enough against hydrolysis.
In addition, the researchers confirmed their porosities by carbon dioxide adsorption, showing that these hydrazone-linked POCs can adsorb moderate volumes of carbon dioxide.
Owing to their water-stable nature, porous nature, abundant multidentate N/O chelating sites, and π-rich cavities within their skeleton, the researchers explored their applications in removing pollutants from aqueous solutions. Interestingly, these hydrazone-linked POCs are stable in water and can effectively remove various types of water pollutants from radionuclide waste, toxic heavy metal ions, and organic micropollutants.
This study represents the first example of POC adsorbent for systematic removal of many kinds of water pollutants.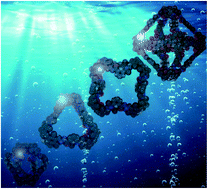 Illustration of the Research. (Image by Prof. YUAN's Group)