Organic-inorganic hybrid perovskite solar cells (PSCs) have rapidly developed over the past decade and have achieved certified power conversion efficiency (PCE) up to 25.5%, a value that is on a par with the best performance of commercial multicrystalline silicon and cadmium telluride (CdTe) thin-film solar cells.
Although this PCE value is currently sufficient for practical application, the concern of long-term operational instability of PSCs has become the biggest bottleneck for the upcoming commercialization of these perovskite photovoltaic devices. Therefore, simultaneously passivating the inherent cation and anion defects of metal halide perovskite holds promise for getting better operational stability of diverse PSCs.
In a study published in Adv. Funct. Mater., the research group led by Prof. HONG Maochun from Fujian Institute of Research on the Structure of Matter (FJIRSM) of the Chinese Academy of Sciences reported a facile two-step epitaxial growth strategy to construct a new type of hetero-structured CsPbI3/CaF2 perovskite/fluoride nanocomposites (PFNCs) for highly efficient and long-term operational stable PSCs.
The researchers first synthesized the ultrasmall CaF2 nanocrystals utilizing a modified high-temperature co-precipitation method. They then used the ultrasmall CaF2 nanocrystals as seeds to guide the epitaxial growth of α-phase CsPbI3 component around them in an undisturbed reaction environment.
By combining the experimental results with first-principles calculations, the researchers unveiled that the interface formation between the (100) plane of α-phase CsPbI3 with CsI or PbI2 termination and F-terminated (200) plane of cubic-phase CaF2 was energetically preferred to deliver stable CsPbI3/CaF2 nano-heterostructure relative to other planes, and that the CaF2 component in CsPbI3/CaF2 PFNCs could passivate the intrinsic defects of CsPbI3 perovskite, leading to improved optoelectronic performance and stability of perovskite matrix.
Through top-view scanning electron microscopy (SEM) images and confocal laser scanning microscope (CLSM) measurement under light illumination and electric field, the researchers found CsPbI3/CaF2 PFNCs functioned as an effective grain boundary anchor to suppress the notorious ion migration in hybrid Cs0.05FA0.81MA0.14PbI2.55Br0.45 (CsFAMA) perovskite thin-film of PSCs.
Besides, they revealed that the fabricated photovoltaic devices based on CsPbI3/CaF2 deposited hybrid CsFAMA perovskite thin-film realized a higher average efficiency of 20.45% than 19.33% of the control devices without deposition. More importantly, the CsPbI3/CaF2-deposited PSC device could maintain 85% of its initial efficiency after continuous operation at the maximum power point (MPP) tracking under AM 1.5G solar light for 1000 h, far better than those of the control and CsPbI3-deposited PSCs with a device T85 lifetime of 315 and 125 h, respectively.
This study provides a promising pathway to stabilize the α-phase crystal lattice of all- inorganic perovskite and more possibilities of constructing highly efficient photovoltaic devices with superior long-term stability.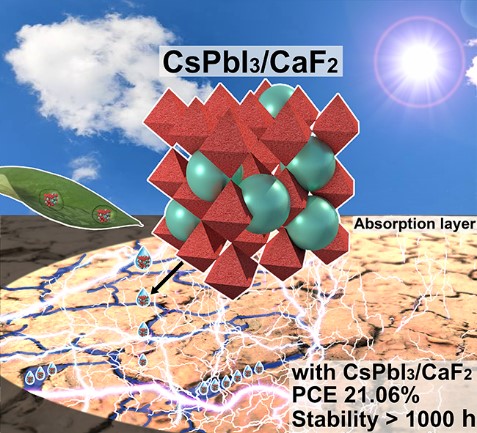 Schematic illustration of the proposed design strategy of constructing the hetero-structured CsPbI3/CaF2 PFNCs to deliver highly efficient and long-term stable PSCs. (Image by Prof. HONG's group)