Cesium lead halide perovskite CsPbX3 (X: Cl, Br, I) nanocrystals (NCs) with narrow photoluminescence (PL) emission band have been widely applied for light-emitting devices. However, their toxicity and poor stability triggered the development of lead-free metal halide perovskite NCs.
It is highly desirable to obtain tunable red/green/blue emission in display application. However, lead-free perovskite NCs generally exhibit broadband emission with poor color purity.
Recently, a research group led by Prof. HAN Keli from the Dalian Institute of Chemical Physics (DICP) of the Chinese Academy of Sciences (CAS) developed a phase transition strategy to design cesium manganese bromides NCs with tunable red/green/blue emission and high color purity.
This study was published in Angewandte Chemie International Edition on June 20.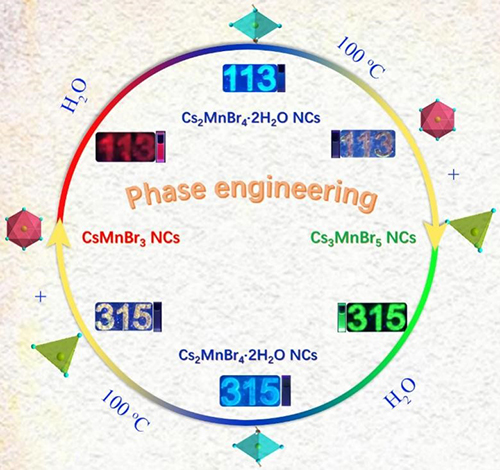 A unique phase transition strategy to engineer the emission color of lead-free cesium manganese bromides nanocrystals, which achieves tunable red/green/blue emission with high color purity (Image by YANG Bin and KONG Qingkun)
The researcher selectively synthesized one dimensional (1D) CsMnBr3 NCs (red-color emission) and zero dimensional (0D) Cs3MnBr5 NCs (green-color emission) with pure phase. Such phase transition could be triggered by isopropanol: from 1D CsMnBr3 NCs to 0D Cs3MnBr5 NCs.
Furthermore, in a humid environment, both 1D CsMnBr3 NCs and 0D Cs3MnBr5 NCs could be transformed into 0D Cs2MnBr4·2H2O NCs (blue-color emission). Cs2MnBr4·2H2O NCs could inversely transform into the mixture of CsMnBr3 and Cs3MnBr5 phase during the thermal annealing dehydration step.
This work highlights the tunable optical properties in single component NCs via phase engineering and provides a new avenue for future endeavors in light-emitting devices.
"Moreover, this proposed strategy is important in obtaining the stability of NCs against destruction by air and water and provides a unique approach for the application of this material in anti-counterfeiting," said Prof. HAN.
This work was supported by the National Key Research and Development Program of China, the National Natural Science Foundation of China, the Scientific Instrument Developing Project of CAS, Liaoning Revitalization Talents Program, and the Dalian City Foundation for Science and Technology Innovation.