Chirality is one of the basic features of plenty of critical bioactive substances, such as DNA, proteins and sugars et al. Especially, chirality in a drug molecule is known to greatly affect the final functions and effects of the drug. Nowadays, each stereoisomer of a candidate molecule is required to be evaluated for the corresponding pharmacologic effects before its availability as a commercial drug. Thus, precise synthesis and stereocontrol over one or multiple chiral centers of a molecule has been a long-standing research challenge in organic synthesis.
Stereodivergent synthesis via dual catalysis has recently been proved to be an efficient solution to the aforementioned problem. Two catalysts are independently adopted to dictate the stereogenic environment of corresponding substrates involved in the coupling reaction, and thus all four stereoisomers of the products are able to be achieved. However, the types of stereochemistry involved in the present stereodivergent synthesis were limited to central chirality. The potential for generating motifs bearing two different types of stereochemistry remains unknown.
Recently, a research team led by Prof. HE Zhitao from the Shanghai Institute of Organic Chemistry of the Chinese Academy of Sciences made advance in this unexplored area. They realized, for the first time, stereodivergent synthesis of motifs containing both a stereogenic center and stereogenic axis via synergistic Cu/Pd-catalyzed diastereoselective hydrofunctionalization of conjugated enynes reaction.
In this work, the researchers disclosed that the coupling of Cu-coordinated α-fluoroesters could efficiently couple with the allyl palladium species from Pd-catalyzed hydrometallation of conjugated enynes. Thus, a variety of tertiary fluoride-tethered allenes were obtained in high yields with high stereoselectivities. All of the four stereoisomers of chiral allenes were achieved facilely, breaking through the limitations of product types via stereodivergent synthesis.
According to the researchers, the power of above method was showcased by the smooth transformation of allene products to a privileged type of skeleton, fluorinated hydrofuran, widely existed in bioactive molecules and drugs like anti-HCV drug sofosbuvir.
The researchers pointed out that, all of the four stereoisomers of fluorinated hydrofurans were constructed easily from corresponding four stereoisomers of allene products via an unusual stereodivergent axial-to-central chirality transfer process.
The study here demonstrates a new protocol for stereodivergent synthesis and shall stimulate extensive studies exploring the potential of combining other types of stereochemistry in the future.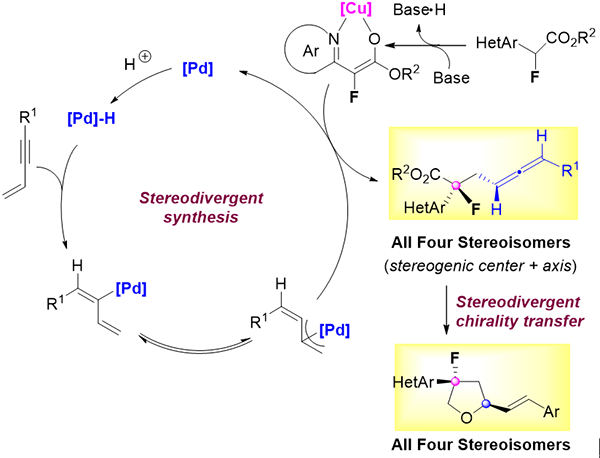 Figure. Stereodivergent synthesis of motifs with a stereogenic center and axis (Image by HE Zhitao)
This work was supported by the National Natural Science Foundation of China, the Science and Technology Commission of Shanghai Municipality, the Chinese Academy of Science, the Shanghai Institute of Organic Chemistry and the CAS Key Laboratory of Synthetic Chemistry of Natural Substances.