The full integration of miniaturized energy harvesters, energy storage and energy consuming devices into a self-powered integrated micro-system on a single substrate is promising in flexible electronics applications.
Printing techniques exhibited great potential for integrated circuits and targeted functional devices. Screen printing enables scaling with high throughput, but it faces the challenge of fabricating multitasking ink.
Recently, Prof. WU Zhongshuai's group and Prof. LIU Shengzhong's group from the Dalian Institute of Chemical Physics (DICP) of the Chinese Academy of Sciences developed aqueous printable multitasking MXene inks for high-performance printable microelectrochemical energy storage devices.
The multitasking MXene inks are applied as additive-free high-capacitance electrodes, sensitive pressure-sensing materials, highly conducting current collectors, metal-free interconnectors, and conductive binders.
This study was published in Advanced Materials on Feb. 1.
MXenes have unique electrochemical, electrical, optical and mechanical properties that endow them with great promise for use in applications. And it is feasible to integrate a multitasking MXene into one monolithic module with preferable compatibility.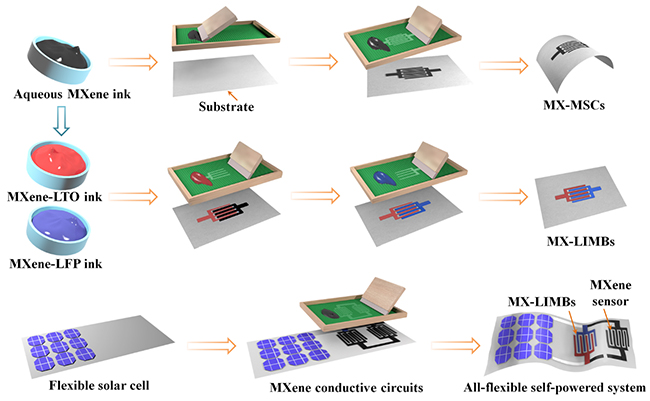 Schematic of the fabrication of printable microelectrochemical energy storage devices and all-flexible self-powered integrated system (Image by ZHENG Shuanghao)
The researchers constructed MXene-based micro-supercapacitors (MX-MSCs) and lithium ion micro-batteries (MX-LIMBs) via screen printing in a versatile and scalable manner on various substrates.
Notably, the MX-MSCs delivered ultrahigh areal capacitance of 1.1 F/cm2 and energy density of 13.8 μWh/cm2, both of which were much higher than most reported MX-MSCs. And a highly integrated MSCs pack consisting of 100 serially-connected MX-MSCs output a high voltage of 60 V, which were the highest value for MX-MSCs so far.
Furthermore, the quasi-solid-state MX-LIMBs, composed of only active materials and MXene, presented an increased areal energy density of 154 μWh/cm2.
The researchers also developed an all-flexible MXene-based self-powered integrated system, composed of a tandem thin-film silicon solar cell, a MX-LIMB, and a MXene hydrogel pressure sensor on a flexible co-planar substrate.