The slot-die coating is a promising deposition technique due to its advantages of low cost, high throughput, continuous roll-to-roll fabrication. However, it remains a challenge to control thin film uniformity over a large area at thickness as thin as 500 nm while maintaining crystallization quality.
Recently, a research group led by Prof. LIU Shengzhong from the Dalian Institute of Chemical Physics (DICP) of the Chinese Academy of Sciences (CAS) fabricated highly-efficient large-area perovskite solar module using slot-die coating.
This study was published in Advanced Materials on October 20.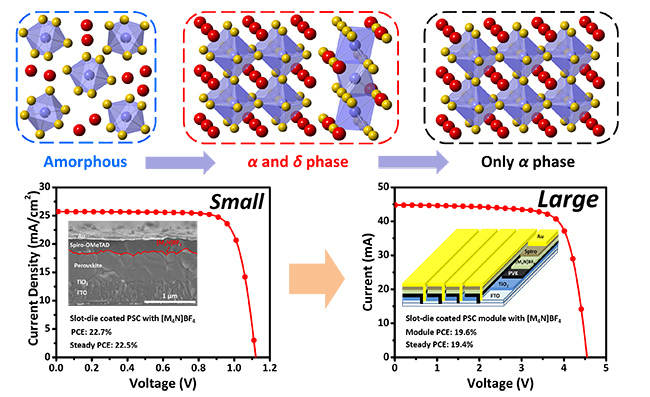 Schematic illustration of the evolution of perovskite film prepared via slot-die coating with HPNE strategy (Image by DU Minyong and DUAN LianJie)
The scientists reported their development of an effective high-pressure nitrogen-extraction (HPNE) strategy that drove formation of a stable intermediate phase and allowed the coating to grow into a uniform dense perovskite film. As a result, they achieved a wide processing window in the large-area printing process.
Furthermore, an effective passivation process was developed using an ionic liquid to achieve solar cell efficiency as high as 22.7%. More importantly, the strategies were successfully scaled-up to large-area solar cell fabrication and a 40×40 mm2 perovskite solar cell (PSC) module attained stabilized power conversion efficiency as high as 19.4%, which was the highest efficiency for large-area module to date.
These results suggest that this controlled printing with HPNE strategy is a highly-efficient, wide-window, cost-effective, and area-scalable technique for fabrication of PSCs, which will advance the development of slot-die coating as well as its application in high-throughput roll to roll deposition.
This work was supported by the Strategic Priority Research Program of the Chinese Academy of Sciences, the National Nature Science Foundation of China, the Doctor Startup Foundation of Liaoning Province, the Innovation Fund Project of Dalian Institute of Chemical Physics, the Cooperation Foundation of Dalian National Laboratory For Clean Energy of the Chinese Academy of Sciences, the National Key Research Program of China, the 111 Project, and the Project of Knowledge Innovation Engineering.