Recently, researchers from the Institute of Process Engineering (IPE) of the Chinese Academy of Sciences, Tsinghua University (THU), and Tianjin University developed a new platform based on the amorphous metal-organic framework (aMOF), which enables efficient intracellular delivery of enzymes and in-situ detection of cellular metabolites in single cells. This work was published in Nature Communications.
"Limited by the cell membrane barrier and the degradation condition in the cell, it is difficult for the exogenous enzyme to exert an efficient biocatalysis. To solve this problem, we designed an amorphous nanoparticle platform for the enzyme loading and further activity." Said GE Jun, an associated professor from THU.
"The nanosized aMOF could overcome the membrane barrier and carry the enzyme into the cell, and the natural enzyme was avoided to be degraded after protection by the nanoparticle," said Prof. WEI Wei from IPE. "Moreover, the structure of the amorphous MOF skeleton was mesoporous, which was larger than that for the crystal MOF and greatly facilitated the substrate transportation; all these advantageous merits improved the activity of encapsulated enzyme."
The aMOF with specific enzymes can be utilized for in situ detection of intracellular metabolites (e.g. glucose). The product catalyzed by the delivered enzyme could react with a fluorescent probe and achieved on-live and non-damage detection at a single cell level.
The aMOF could not only fulfill the absolute quantification of glucose but also discriminate different cell types, distinguishing normal and cancer cells.
This work sheds light on the application in monitoring chronic diseases and diagnosing early cancer via detecting cellular metabolic processes in a mild and efficient way.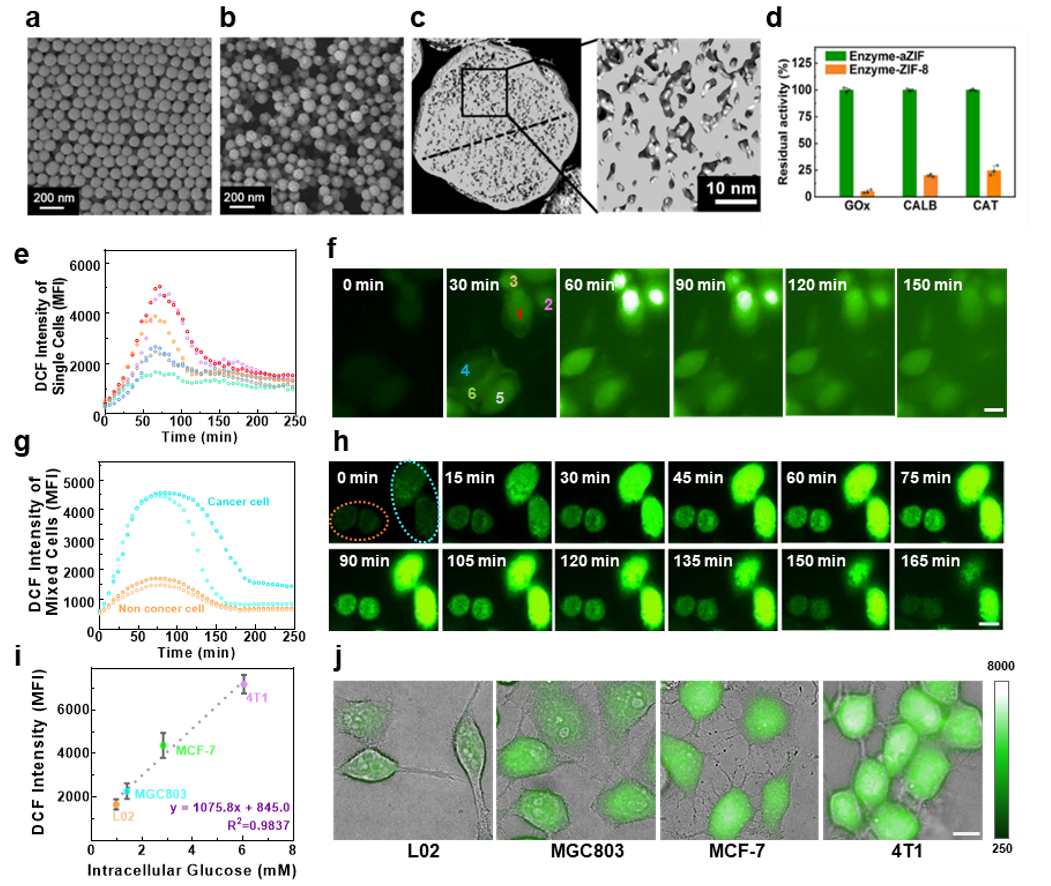 Exploiting an amorphous nanoparticle for in-situ detection of cellular metabolites. (Image by YUE Hua, WU Xiaoling, and ZHANG Yuanyu)