Owing to its superior advantages, including non-destructive data acquisition, unique spectroscopic fingerprints, simple sample preparation, and ultrahigh sensitivity, Surface-enhanced Raman scattering (SERS) has been proven to be a promising analytical technique.
SERS substrates, which can greatly amplify Raman scattering signals to achieve high sensitivity, are critical in SERS measurement. However, most of SERS substrates are fabricated on hard templates, such as glass, quartz, which bring enormous inconvenience in practical application, especially in storage, transportation and detection of contaminants on irregular objects.
The research group of Prof. ZHENG Yuming from Institute of Urban Environment of the Chinese Academy of Sciences have demonstrated a one-step approach for the fabrication of flexible, robust, reproducible and free-standing SERS substrates (AuNPs/polyvinyl chloride (PVC) film) through a polymer induced interfacial self-assembly method.
Differing from many existing preparation methods for flexible SERS substrates, our method is much simple, that is, no inducing agent is needed and the film is prepared in one step. As the assembled nanoparticles are orderly half-embedded in the PVC film, the AuNPs/PVC film exhibits outstanding reproducibility and stability. In addition, the film could be easily regenerated by rinsing with NaBH4 solution.
As a proof of concept, the film was directly wrapped on an apple surface for in situ detection of pesticide residues, and a detection limit of 10 ng/cm2 thiram was achieved.
Furthermore, rapid on-site and in situ detection of multi-pesticide residues has been proven to be feasible with the aid of a portable Raman spectrometer.
Due to its simple preparation, good reliability, outstanding stability and reusability, the AuNPs/PVC film has great potential in practical applications.
This study, entitled "Polymer induced one-step interfacial self-assembly method for the fabrication of flexible, robust and free-standing SERS substrates for rapid on-site detection of pesticide residues", has been published in Nanoscale.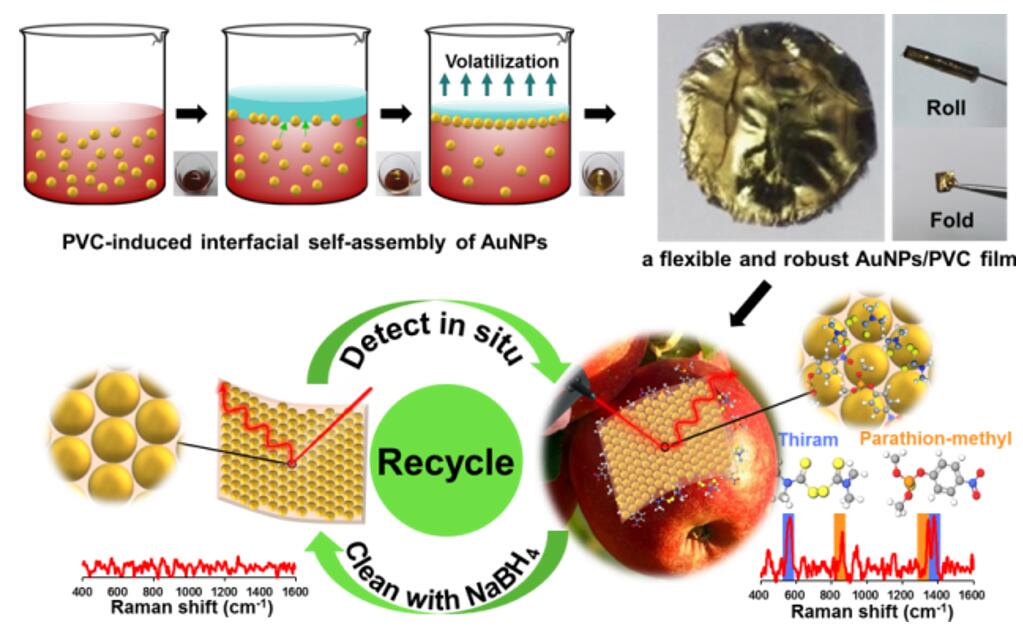 Fig. 1 Schematic diagram of fabricating a AuNPs/PVC film and in situ detection of multi-pesticide residues on apple surface (Image by ZHENG Yuming)