Recently, the researchers from the National Time Service Center (NTSC), Chinese Academy of Sciences, used the global BeiDou navigation system (BDS-3) satellites to achieve Asia-Euro long baseline common view time comparison between UTC (NTSC) and UTC (TP).
In the current case, the BDS-3 satellites of common view are less than half of the BDS-2, the precision of the common view time comparison is 1.2 ns, and the improvement is about 19%.
In the past two years, Bureau International des Poids et Mesures (BIPM) has been actively promoting the application of BeiDou in the calculation of international atomic time scale.
NTSC has conducted researches on the BDS-2 time comparison with the world's major timekeeping laboratories such as Physikalisch-Technische Bundesanstalt (PTB), Real Institute y Observatory de la Armada (ROA) and Royal Observatory of Belgium (ORB).
The results of China-Czech long baseline common view verified that the BDS-3 had a significant improvement on the time comparison specification compared to the BDS-2, and it could provide technical support for the BeiDou system to be one of the time comparison links of international atomic time calculation.
At present, BDS-3 has successfully launched 19 global networking satellites, including 18 MEO satellites in service and one GEO satellite in orbit testing.
The basic system has been completed and began to provide global services. The BeiDou-3 satellites are equipped with higher performance rubidium and hydrogen atomic clocks, with the stability being E-14 and E-15, respectively, which is an order of magnitude higher than the stability of the on-board clock of BeiDou-2 satellite.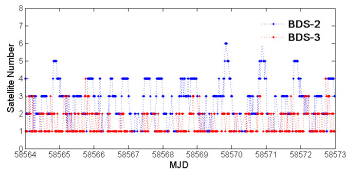 The number of satellites observed by NTSC and TP at the same time (Image by NTSC)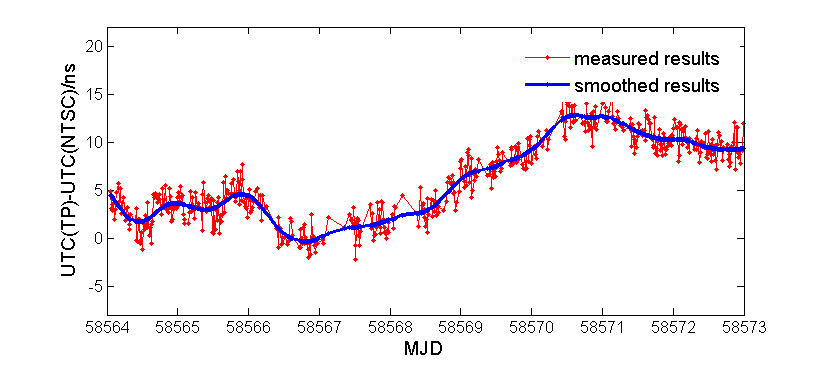 The results of China-Czech BeiDou-3 common view time comparison (Image by NTSC)