A research team led by Prof. LU Yao from the Dalian Institute of Chemical Physics (DICP) of the Chinese Academy of Sciences (CAS), in collaboration with Prof. LIU Tingjiao from Dalian Medical University, realized multiplexed profiling of single-cell extracellular vesicle secretion. Their findings were published in PNAS.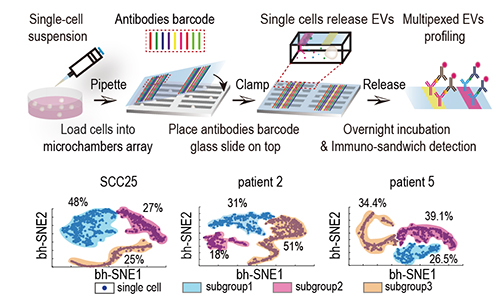 Schematic illustration of the workflow for multiplexed profiling of single-cell EV secretion (top); Visualized clustering analysis revealed functional subgroups in OSCC cell line and patient samples (bottom). (Image by JI Yahui)
Extracellular vesicle (EV), including exosome, microvesicle, etc., are critical components in cell microenvironment regulating intercellular communications and transferring biology information molecules like cytosolic proteins, nucleic acids, etc. Conventional methods for EV surface marker profiling, which was based on population measurements, masked the cell-to-cell heterogeneity in the quantity and phenotypes of EV secretion.
In this work, the researchers developed a microchip platform for multiplexed profiling of single-cell EV secretion to address the critical need for new technologies to dissect the communication spectrum of tumor cells mediated by EVs. They applied this platform to profile human oral squamous cell carcinoma (OSCC) cell lines, leading to a deep understanding of previously undifferentiated single cell heterogeneity underlying EV secretion.
"We observed the decrement of certain EV phenotypes were associated with the invasive feature of both OSCC cell lines and primary OSCC cells," said LU. "And we also realized multiplexed detection of EV secretion and cytokines secretion simultaneously from the same single cells to investigate the multidimensional spectrum of cellular communications, from which we found different cell subgroups dominated EV secretion and cytokine secretion," LU added.
The above technology enables a comprehensive evaluation of EV secretion heterogeneity at single cell level, which may become an indispensable tool to complement current single cell analysis and EV research.
The project was supported by National Natural Science Foundation of China, Youth Innovation Promotion Association CAS, and the Dalian Institute of Chemical Physics.