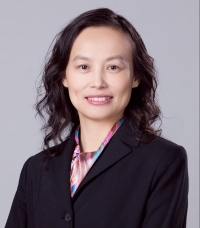 Professor CHEN Chunying won the Royal Society of Chemistry's Environment Prize of 2021. (Image by NCNST)
Professor CHEN Chunying was named winner of the Royal Society of Chemistry's Environment Prize, according to the announcement released this Tuesday June 8th Beijing time, for her pioneering contributions in exploration of nano–bio interface.
Professor CHEN is now working for National Center for Nanoscience and Technology of the Chinese Academy of Sciences.
Her research on nano–bio interface provides fundamental insights into the fate of nanomaterials in biota and the environment.
She receives £3000 and a medal for the prize.
Nanoscale materials have unique physiochemical properties compared to bulk materials and are present in thousands of products we use in daily life. CHEN's research focuses on the fate of nanomaterials in biota and the environment and the interactions that happen at the nano-bio interface and molecular level.
Her team have established a reliable and quantitative methodology for measuring protein corona formation and the absorption, distribution, metabolism, excretion, toxicity (ADME/T) and translocation of nanomaterials in vivo by using isotope-labelling and synchrotron radiation-based techniques.
Professor CHEN's work has expanded our understanding of nanomaterial exposure scenarios and their human toxicological effects in vivo, as well as the discrepancy between in vitro and in vivo behavior, providing fundamental insights for environmental health and the sustainable development of nanotechnology.
"Professor CHEN's work is a prime example of what we are so passionate about and we are proud to recognise her contribution with this prize," said Dr. Helen Pain, Chief Executive of the Royal Society of Chemistry.
"In a recent review of our recognition portfolio, we committed to ensuring that our prizes reflected the incredible diversity and excellence of chemistry being carried out today," she said.
The Royal Society of Chemistry's prizes have recognized excellence in the chemical sciences for more than 150 years. In 2019, the organization announced the biggest overhaul of this portfolio in its history, designed to better reflect modern science.
The Research and Innovation Prizes – of which the Environment Prize is one – celebrate brilliant individuals across industry and academia. They include prizes for those at different career stages in general chemistry and for those working in specific fields, as well as interdisciplinary prizes and prizes for those in specific roles.
Of those who have won a Royal Society of Chemistry Prize, over 50 eventually won Nobel Prizes for their pioneering work, including 2019 Nobel laureate John B Goodenough.