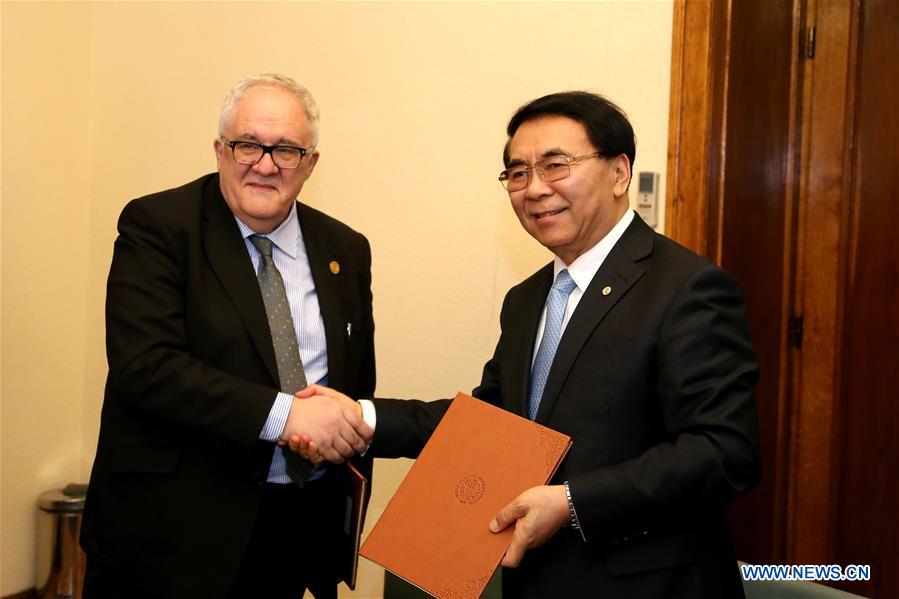 President of the Chinese Academy of Sciences (CAS) Bai Chunli (R) shakes hands with President of the Serbian Academy of Sciences and Arts (SANU) Vladimir S. Kostic after signing a cooperation agreement in Belgrade, Serbia, March 27, 2019. CAS and SANU on Wednesday signed a cooperation agreement which will enable them to exchange young scientists and experts and strengthen academic cooperation between China and Serbia. (Xinhua/Shi Zhongyu)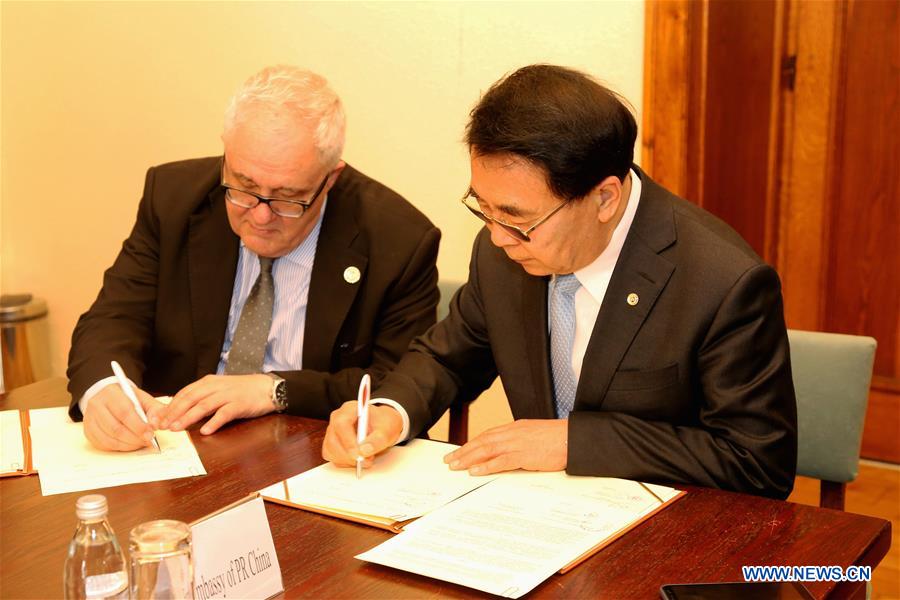 President of the Chinese Academy of Sciences (CAS) Bai Chunli (R) and President of the Serbian Academy of Sciences and Arts (SANU) Vladimir S. Kostic sign a cooperation agreement between CAS and SANU in Belgrade, Serbia, March 27, 2019. CAS and SANU on Wednesday signed a cooperation agreement which will enable them to exchange young scientists and experts and strengthen academic cooperation between China and Serbia. (Xinhua/Shi Zhongyu)
Chinese Academy of Sciences (CAS) and Serbian Academy of Sciences and Arts (SANU) on Wednesday signed a cooperation agreement which will enable them to exchange young scientists and experts and strengthen academic cooperation between China and Serbia.
The Agreement on Cooperation was signed by presidents of CAS and SANU, Bai Chunli and Vladimir S. Kostic, at the building of SANU in downtown Belgrade. After the signing, Bai recalled Serbian famous scientists of the past, Nikola Tesla and Mihajlo Pupin, whose popularity reached Chinese people, and praised eminent experts and scientists of SANU.
"We believe that the signing of this agreement will provide better opportunities for the development of our cooperation, and in the second part of this meeting the experts of both countries will consider possibilities how to develop it further and give their suggestions," Bai said after the signing ceremony.
He estimated that the cooperation will be of mutual benefit, as CAS in past years started several projects that promote exchange of young scientists and students, adding that two scientists from Serbia are already working on their doctorates at a Chinese scholarship program for foreign students and experts.
"We wish that in future a greater number of young and talented experts from Serbia come and join us and strengthen our research spirit," he said.
Kostic praised CAS as one of the most prestigious scientific institutions in the world, with more than 70,000 scientists employed at its institutes.
"I think that this can be extremely useful for us, as country and as a scientific community... I told my counterpart that China too can benefit from this cooperation, because our community in past produced some of the most famous names, that changed the course of science in certain areas," Kostic said after signing the agreement.
He said that SANU welcomed this agreement with excitement, especially because CAS announced plans to enable specialization for young Serbian scientists in numerous areas.
In the earlier of the day, Bai and Kostic attended a meeting with the Serbian President Aleksandar Vucic and the education minister Mladen Sarcevic.
According to the press release, Vucic emphasized at the meeting that the whole world respects China for fascinating progress in the field of artificial intelligence, and that the cooperation between SANU and CAS will enable exchange of experiences in the field of high technologies and innovations, which are the basis of economic development in the future.
Bai told Vucic that cooperation in the field of science and education is an integral part of good relations between Serbia and China, with great potential for mutual benefit. (Xinhua)