A hard X-ray image of a solar flare taken by HXI, November 11, 2022. /National Space Science Center
China released the first batch of images captured by the country's first comprehensive solar probe at a press conference at the National Space Science Center on Tuesday.
The Advanced Space-based Solar Observatory (ASO-S), dubbed Kuafu-1, has been operating in orbit 720 kilometers from Earth, facing the sun since its launch in October.
The images were captured by three different payloads on the probe in the last two months – Full-disk MagnetoGraph (FMG), Lyman-alpha Solar Telescope (LST) and Hard X-ray Imager (HXI).
The FMG observed the sun's magnetic field – the first time for China to make such observations from space. HXI achieved hard X-ray imaging of the sun, the only imager in the world to provide hard X-ray pictures from the angle of Earth. The LST, comprising three pieces of equipment, also captured an?unprecedented image of the sun's full disk.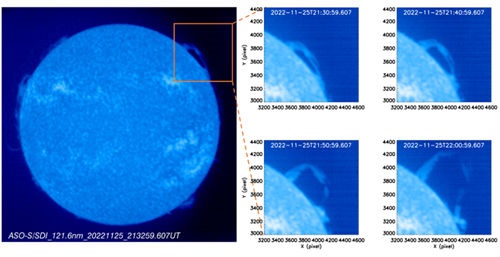 Solar prominence observed by the SDI, one of the three equipment installed on Lyman-alpha Solar Telescope (LST), November 25, 2022. /National Space Science Center
The solar probe, with a projected life of no less than four years, is designed to accumulate and transmit back some 500 gigabytes of data within a day, which is equivalent to tens of thousands of high-quality images.
It's the world's first near-Earth satellite telescope to simultaneously monitor solar flares, coronal mass ejections and the sun's magnetic field, according to Gan Weiqun, the satellite's principal scientist from the Purple Mountain Observatory (PMO) under the Chinese Academy of Sciences (CAS).
During its in-orbit operation, three ground stations in the cities of Sanya, Kashgar and Beijing, far apart from each other, receives data from space, before sending them in packages over the next four years to a 2,048-core powerful computer mounted at the PMO for decoding. (CGTN)