[video:20220623-China finds high-pressure minerals from Chang'e-5 lunar soil for the first time]
Chinese scientists have identified two high-pressure minerals in lunar regolith samples brought back by Chang'e-5 for the first time.
The discovery provides crucial evidence of the existence of impact ejecta from nearby craters in the sampling area of Chang'e-5, which had been hinted at through an analysis of previous remote sensing data.
The researchers from the Institute of Geochemistry of the Chinese Academy of Sciences found seifertite and stishovite, minerals formed from silicon dioxide at high temperatures and pressures in a lunar regolith sample. It also contains silicon dioxide and silica glass.
The coexistence of seifertite and stishovite suggests the host rock was impacted by elements of the lunar atmosphere, such as pressure increase, temperature rise and pressure decline.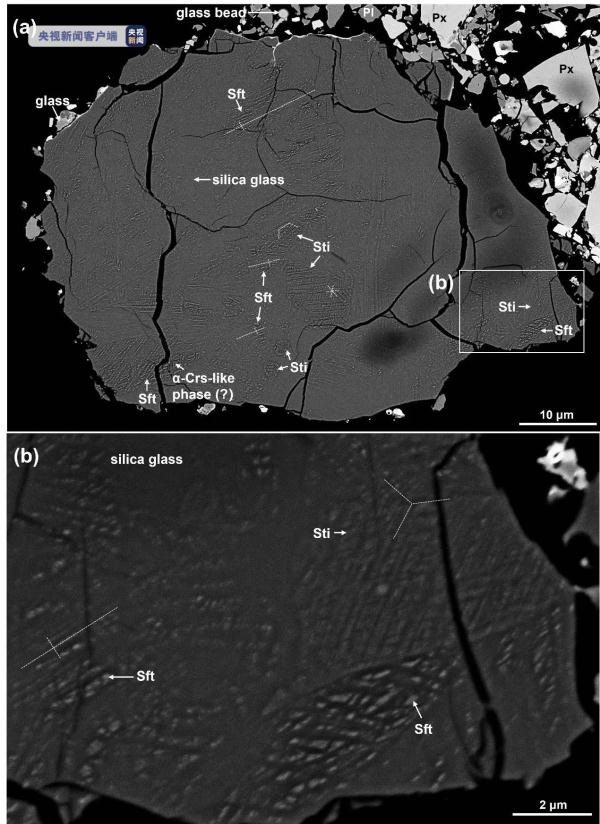 The backscattered electron image shows the fragments of seifertite and stishovite. /China Media Group
The impact of objects crashing on the moon is an important geological process for the combination of materials on the lunar surface, as well as a key factor in the evolution of lunar soil.
High-pressure minerals are of significance in determining the temperature and pressure of the rocks during impact and to infer the size of the crater. But it's quite rare to find high-pressure minerals from lunar soil samples or a lunar meteorite, limiting the research on lunar crater deduction through the samples.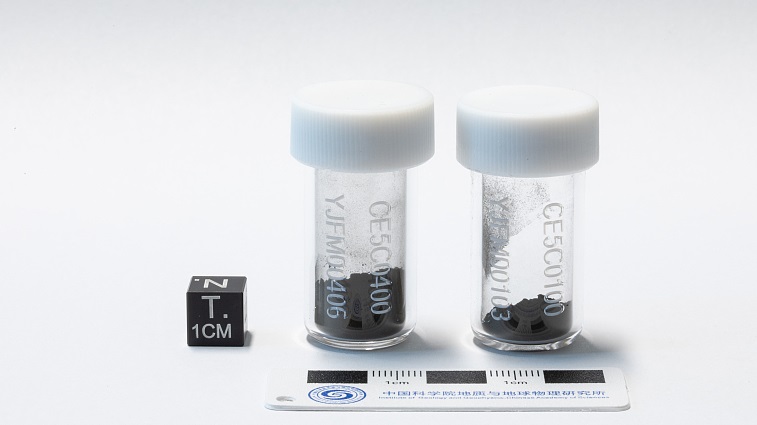 The lunar samples are on display in Beijing, August 26, 2021. /CFP
The Chang'e-5 probe returned to Earth on December 17, 2020, having retrieved 1,731 grams of lunar samples, mainly rocks and soil from the moon's surface.
The samples have helped researchers to better understand how latitude affects space weathering on the moon, according to the Chinese Academy of Sciences. (CGTN)