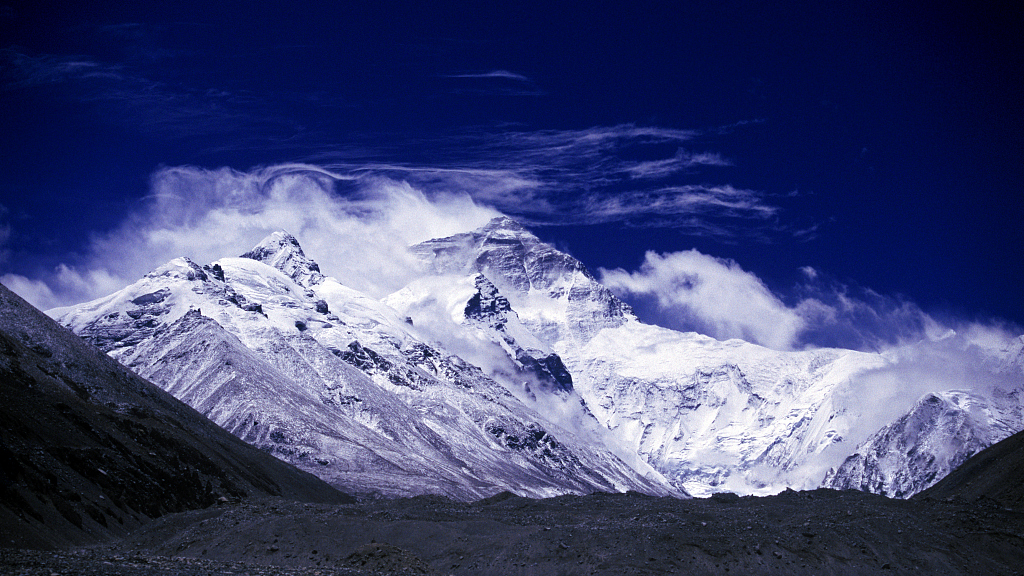 The Qinghai-Tibet Plateau in southwest China's Tibet Autonomous Region, also known as the "Water Tower of Asia," is the source of more than 10 major rivers in Asia. China has been conducting scientific expeditions in the area since 1973, and on April 28, 2022, a scientific expedition to Mount Qomolangma, comprising 16 teams and more than 270 members, began.
Their goal is to find a pattern of climate change and study the variation of greenhouse gas concentration in the Mount Qomolangma area. One of their research sites is the Rongbuk Glacier. Located at the foot of Mount Qomolangma at an altitude of 5,300-6,300 meters, the glacier has been facing the threat of climate change for years.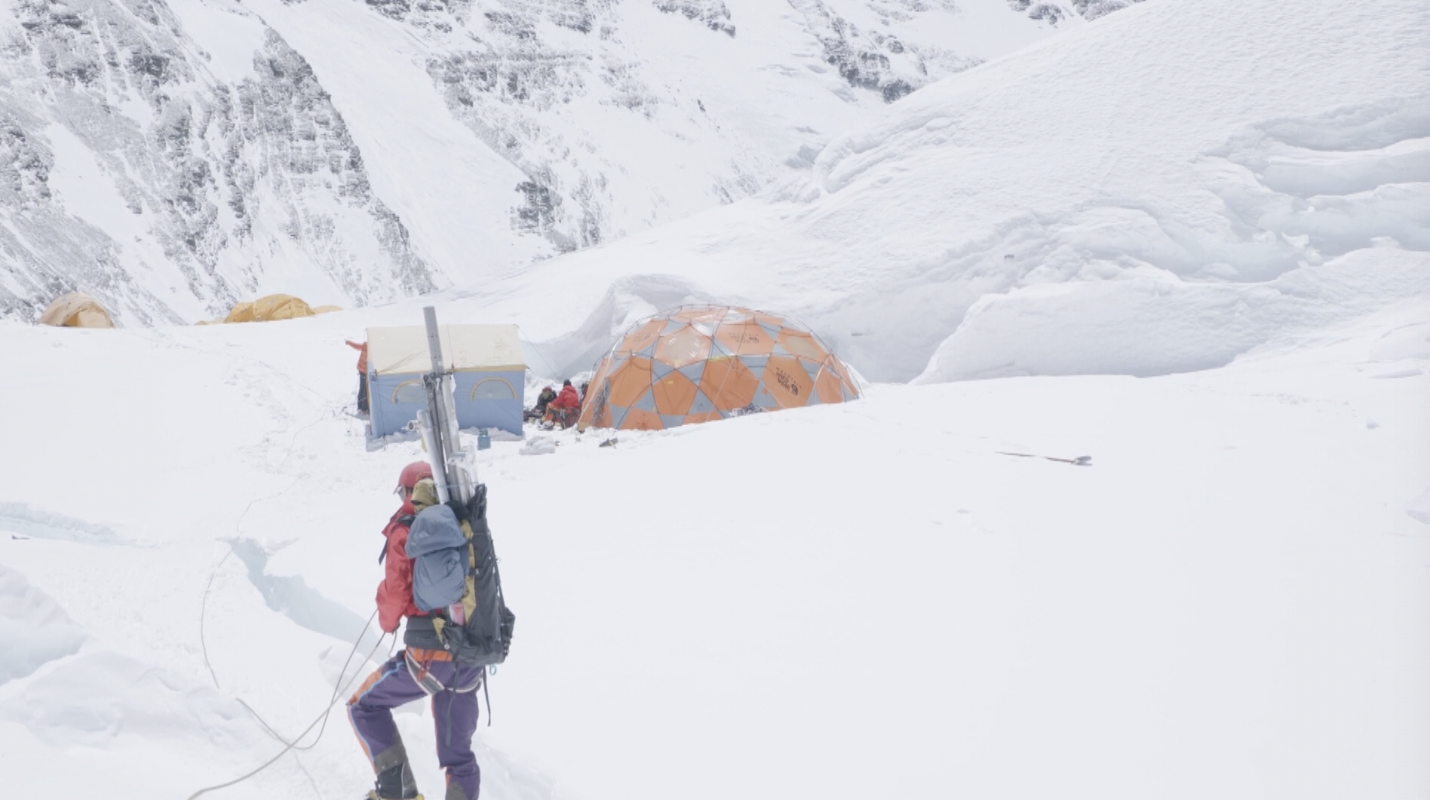 A member of the surveying team is seen in front of the North Col Camp of Mount Qomolangma at the China-Nepal border, April 28, 2022. /China Media Group
Kang Shichang, a researcher with the Northwest Institute of Eco-environment and Resources (NIEER) under the Chinese Academy of Sciences, is a member of the expedition team and explained the situation based on the data they collected.
"We've done statistics indicating that the total number of glaciers is 87 in the Rongbuk River basin on the north slope of Mount Qomolangma. But this number is very interesting," said Kang.
"Compared with the existence of 68 glaciers 20 years ago, the number has increased, but the actual situation is that the glacial area is shrinking. The cause of the increasing number of glaciers is the melting of a large glacier into several small ones, so the number has increased. We've also seen the disappearance of a small glacier. The glacier area of the Rongbuk river basin measures 115 square kilometers in size, 20 percent less than that in the 1970s."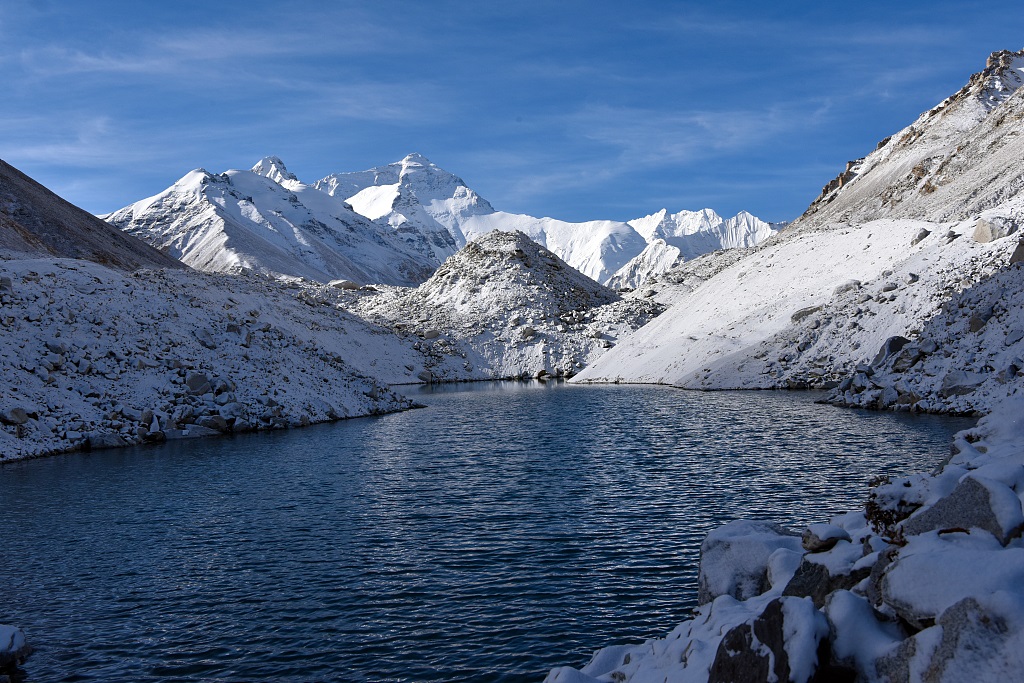 A view of the glacial lake located at the foot of the Rongbuk Glacier. /VCG
The melting glaciers have also attracted the attention of other researchers who study glaciers. Ding Minghu, an associate researcher at the Chinese Academy of Meteorological Sciences, and Wang Feiteng, Northwest Institute of Chinese Academy of Sciences, are two of them.
According to Ding, the increase in the total number of glaciers indicates the shrinking and melting of glaciers. Meanwhile, Wang said the phenomenon is a bad sign amid global warming, as newly formed small glaciers might be easier to melt away.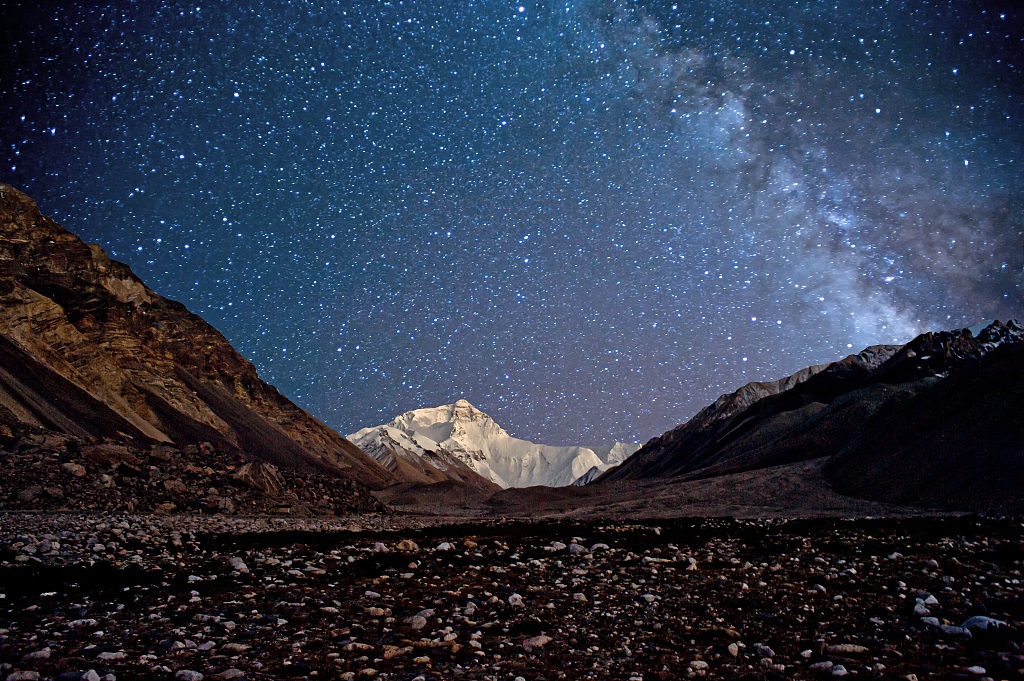 The Rongbuk Glacier against the starry sky. /VCG
The consequences of massive glaciers melting are serious. It can cause frequent floods in all the tributaries that originate from the Qinghai-Tibet Plateau and a rise in the sea level, which has the potential to submerge some island countries. Scientists are currently working to control the melting speed by adding cover above the glacier ice.
(Cover image via CFP)