[video:20220515-Chinese-made floating airship reaches world record altitude of 9,032 meters]
A floating airship developed in China, named Jimu No.1, reached a new world record altitude of 9,032 meters on Sunday.
The airship ascended with a speed of 30 meters per second from a base camp at an altitude of 4,300 meters on Mount Qomolangma, the world's highest peak, located on the China-Nepal border, at 1:26 a.m. Beijing Time.
At 4:40 a.m., the airship hit 9,032 meters, above the mountain's peak of 8848.86 meters, setting a new word record.
Weighing 2.625 tonnes, the floating airship has a volume of 9,060 cubic meters and the vehicle attached to the bottome of the airship weighs 90 tonnes.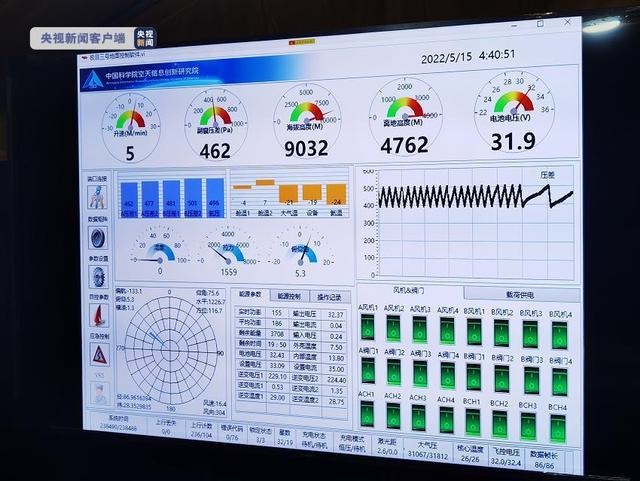 A screen shows the airship reaching an altitude of 9,032 meters. /China Media Group
The observation apparatus on the airship is mainly used to record atmosphere composition data and the water vapor transmission process in space. The measurement data includes black carbon, dust, carbon dioxide and methane, which are key elements in studying environmental changes on the Qinghai-Tibet Plateau.
A 64-member team conducted the research. It is one of the 16 scientific research teams from China's "Earth Summit Mission 2022" scientific expedition.
The researchers are from three affiliates of the Chinese Academy of Sciences, including the Institute of Tibetan Plateau Research, the Aerospace Information Research Institute and the Changchun Institute of Optics, Fine Mechanics and Physics.