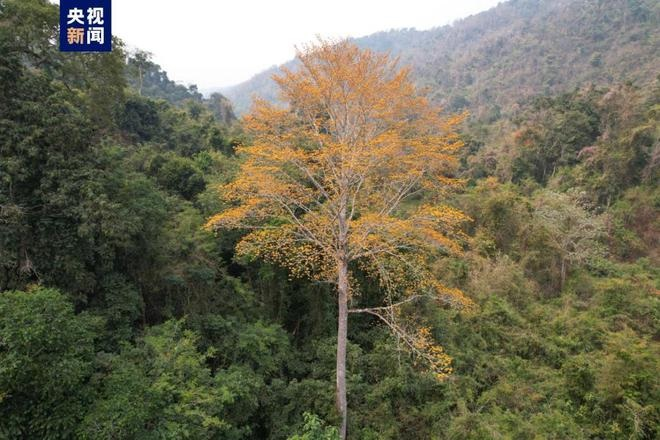 A photo shows a Pterocymbium macranthum in Southwest China's Yunnan province. [Screengrab/CCTV News app]
Chinese researchers have discovered several new exotic and rare species of flora.
On Sunday, scientists from the Chinese Academy of Sciences' Xishuangbanna Tropical Botanical Garden announced they had discovered a tree with funnel-shaped, red-orange flowers called Pterocymbium macranthum in southwestern China's Yunnan province.
It was the first time scientists had recorded this species in China, as its primary habitat is in tropical areas of Myanmar and Thailand, said Tan Yunhong, a researcher from the botanical garden.
The discovery added another exotic specimen to the long list of flora in China's tropical region, Tan said, adding the tree can grow to 35 to 45 meters.
Given this species' high research and conservation value, Tan said scientists will conduct further studies to understand its population distribution and growing status.
On Friday, the Chengdu Institute of Biology of the Chinese Academy of Sciences announced it had discovered two new plant species in a giant panda habitat in southwestern China's Sichuan province.
Scientists first discovered the two species in the Wolong National Nature Reserve during the summer of 2021. They later confirmed that they were new orchid and primrose species.
The tiny orchid is named Gastrochilus heminii in honor of noted panda expert Zhang Hemin. It grows at 2,400 to 2,700 meters above sea level. Scientists found about 200 of them during field investigations in the nature reserve.
This orchid is currently listed as a data-deficient species by the International Union for Conservation of Nature, meaning there needs to be more information to assess its risk of extinction. Therefore, more targeted research and surveying are necessary to fill in those knowledge gaps.
The primrose species, named Primula wolongensis, is another data-deficient flora, and it grows on cliffs at an altitude of 3,400 meters. It has five heart-shaped yellow petals that form a flower in the shape of a pentagon. So far, scientists have only found one patch of this flower in the wild, making it exceptionally rare.
"These discoveries have enriched the local biodiversity and facilitated the protection of the local environment and habitat," the Chengdu Institute of Biology said.
China boasts some of the richest biodiversity in the world and has a relatively robust flora protection system, according to a white paper on China's biodiversity protection released by the State Council, China's Cabinet, in 2021.
As of 2021, China had around 200 conservation botanical gardens, safeguarding more than 23,000 species of flora, the white paper said.
Liu Bin, an associate researcher at the Institute of Botany of the Chinese Academy of Sciences, said that over the last 20 years Chinese scientists have discovered around 200 new flora species annually.
Liu said the main reasons for the wealth of discoveries are new transportation infrastructure and technology enabling scientists to venture deep into uncharted regions such as remote mountains and border areas.
The second reason is that as scientists' understanding of taxonomy deepens, some flora species that were found in the past were later confirmed and reclassified as new species. The new orchid and primrose species from the Wolong National Nature Reserve are prime examples of this.
The third reason, according to Liu, is that China's massive ecological restoration programs have facilitated the population of some endangered species to recover, allowing scientists to discover them more easily.
Chinese scientists constantly discovering new species is a testimony to the success of China's environmental protection and ecological restoration efforts, Liu said.
Ren Hai, director of the South China Botanical Garden of the Chinese Academy of Sciences, said rare native plants hold great research value and can also serve as the poster child for conservation efforts and get the public interested in science and nature. (China Daily)