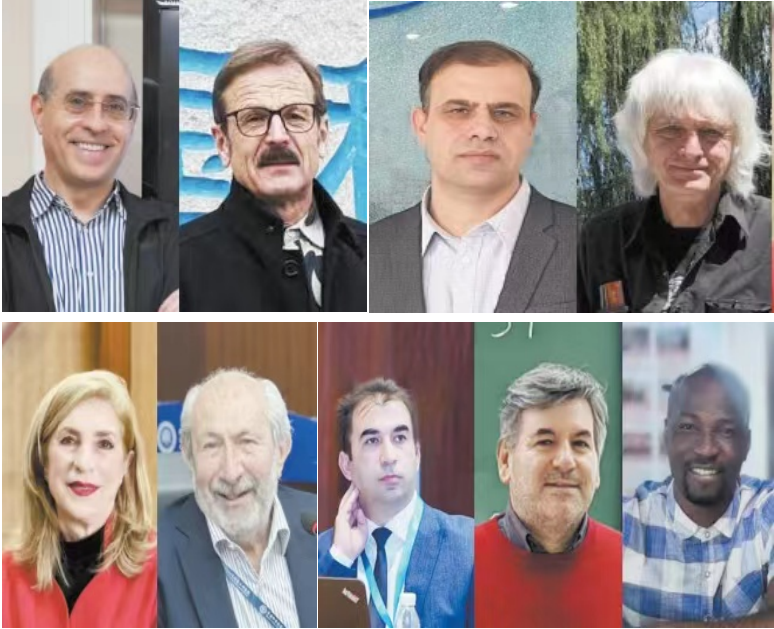 Professor Francesco Faiola; Professor Viktor Gouretski; Professor Mashooq Khan; Professor Norman MacLeod;
Ms. Rouhieh Tabibzadegan; Professor Aldo Tagliabue; Dr. Agshin Aliyev; Professor Rocco Lacorte; Professor Samuel Oluwarotimi Williams. (From left to right)
By LONG Yun & BI Weizi
On the occasion of the Two Sessions, several prominent foreign experts who live and work in China, were interviewed by S&T Daily to share their thoughts on China's development and its important role in global growth.
Visions for Two Sessions
Speaking of their visions for this year's Two Sessions, British paleontologist, Professor Norman MacLeod from Nanjing University (NJU) recognized their value in setting priorities and establishing a roadmap for China's development.
MacLeod praised China's progress in the past years in addressing environmental issues, such as establishing national parks and wildlife reserves. He expressed his appreciation for the renewed emphasis on conservation and correcting the detrimental effects humans have exerted on the natural environment, as reflected in the Two Sessions' document.
At the same time, Professor Rocco Lacorte, an Italian Marxist scholar from Nankai University, expects that the focus will be on addressing key issues related to social and economic development, as well as environmental challenges. He said that the world has called for action to address these challenges, and China is already ahead of the West in terms of green policies.
As a cultural messenger between China and Azerbaijan, Dr. Agshin Aliyev, an Azerbaijani sinologist, is optimistic about the potential of such collaboration to foster stronger ties between the two nations.
Canadian teacher at Yunnan University of Finance and Economics, Rouhieh Tabibzadegan, is more concerned about China's policies in improving primary education, which is crucial for the development of children's morality, intelligence, and physical beauty. She emphasized that it's essential to start teaching morality at a young age and providing practical ways for students to learn and apply their lessons.
BRI, Unrivalled Global Platform
President Xi Jinping proposed the Belt and Road Initiative (BRI) in 2013, to improve regional connectivity and economic integration, while benefiting people's livelihoods and welfare. Almost ten years on, this vision has become a world-applauded reality in terms of policy coordination, infrastructure upgrades, closer people-to-people exchanges, and other enhanced ties. As a collaborative endeavor, BRI has been welcomed by the international community, as well as by individuals who are witnessing its tangible benefits. Prof. Lacorte described it as "a historically unprecedented and important initiative."
From his perspective, it has made a significant impact on countries like Laos, as many people have been lifted out of poverty by participating in projects like the China-Laos railway. Similar projects have taken place with the African countries in the BRI. Lacorte highlighted that BRI's significance not only lies in its function to boost global economic development, but also in terms of global governance and security.
Lacorte believes that BRI can bring more peace and stability to the world. He admired the role of BRI, which embodies the idea that reaches a harmonious coexistence and interdependence, and believes the people of the world can use this tool to build a community with a shared future for mankind. "The BRI is a model of win-win cooperation. In this model, China respects the interests and the autonomy of each country," he said, adding that it is good news to see more countries joining BRI.
Despite the Western misperception of China's growth, Lacorte said that BRI has led to tangible benefits in improving living conditions of the people in the areas where it is implemented. After years of cooperation, landmark accomplishments, including the China-Pakistan Economic Corridor (CPEC), serve as specific examples.
According to Dr. Mashooq Khan, a young Pakistani scientist working at Shandong Analysis and Test Center, CPEC is a mega project aiming to rapidly modernize Pakistan's economy, energy infrastructure, and transportation network. Khan hopes that Pakistan further extends this cooperation to the ground level and drives further development by technology transfer, enhancing universities' capacity for industrially important research, modernizing agriculture, and supporting small manufacturing units.
Azerbaijan, located in the center of the so-called Medium Transport Corridor between China and Europe, remains a reliable transit partner for China. Aliyev, currently working at Beijing Foreign Studies University, told S&T Daily that Azerbaijan is deeply involved in realizing this project with the support of China. Based on his working experiences, he applauded the cultural significance brought by BRI.
China Commits to Openness and Innovation
China has been stepping up efforts to promote its academic and innovative environment featuring openness, inclusiveness, and high efficiency, which fosters collaboration and creativity, leading to significant advancements in various fields in China and even around the globe. The positive experiences of foreign experts working in China's institutions reflect the country's commitment to building such a community.
Prof. MacLeod from NJU has worked in China for five years and experienced firsthand the country's academic environment. He described the academic environment at NJU as "supportive" and the research resources as "outstanding."
MacLeod said that the facilities and equipment available to researchers are first-rate, and there are virtually no limitations on what can be accomplished. He would encourage his Western colleagues and young researchers to consider China a preferred destination, citing the lower cost of living, access to resources, and friendly and supportive environment.
After studying and working in China for six years, Dr. Mashooq Khan noted a collaborative, inclusive, supportive, and creative research environment is considered the best to carry out scientific research, and he feels that his team and institute in China meet all these criteria. Khan's team is open to collaboration and actively establishes partnerships with high-level researchers at home and abroad to integrate their expertise for significant technological advancement. "My research team values and respects each other, and there is no discrimination, social separation, or isolation," he said.
Not only do the institutions answer the calls for openness, inclusiveness and innovation, but cities like Shenzhen also attract foreign experts' attention to their strides in pursuing innovation and openness.
Prof. Aldo Tagliabue said that he is particularly interested in Shenzhen, where he works. This city provides him with more significant opportunities for innovation. "Shenzhen is a relatively new city that has grown rapidly over the past few decades, attracting many people from around the world," he said, adding that "Because there is no long-standing tradition in Shenzhen, there is a unique opportunity to start something new and innovative." He sees Shenzhen could serve as a model for other places in China and around the world.
Int'l Cooperation Boosts Common Development
The Chinese scientific community has been ramping up its efforts to collaborate with its peers worldwide, establish new research initiatives, cultivate an internationalized environment for research, and create an open and globally-competitive innovation ecosystem, in order to push the boundaries of innovation for the sake of humanity. Foreign experts have responded favorably to these initiatives.
Italian Professor Francesco Faiola, the first full-time foreign researcher at the Research Center for Eco-Environmental Science of Chinese Academy of Sciences (CAS), established the stem cell toxicology research group at the Laboratory of Environmental Chemistry and Ecotoxicology.
"My lab attaches great importance to international exchange and cooperation," he told S&T Daily. In recent years, his team has led 12 international cooperative projects, made over 220 keynote speeches, and been invited to give presentations at major international academic conferences. According to Faiola, his lab has established multiple stable strategic scientific and technological partnerships, cultivated a group of academic leaders and facilitated the production of various innovative scientific and technical achievements.
According to Viktor Gouretski, a German scientist at the Institute of Atmospheric Physics, CAS, China's investment in knowledge, education, and science has had a profound and far-reaching effect on its progress and contribution to the global community.
Gouretski told S&T Daily that his personal experience is also a testament to China's efforts to promote people-to-people exchanges. "I had an opportunity to continue my research in China, indicating that the Chinese government considers inviting experts from other countries and conducting international collaboration are essential," he said. Gouretski believes China's policy is active and will pay off in the long run, benefiting not only the country, but also the world. By fostering international collaboration and talent exchange, China can learn from and contribute to the global scientific community, leading to further advancements in various fields.
Aldo Tagliabue is a renowned Italian scientist in the field of immunology and vaccine research with over 40 years of experience in the industry. He currently serves as the chief scientist of the Laboratory of Inflammation and Vaccines at the Institute of Biomedicine and Biotechnology, Shenzhen Institute of Advanced Technology (SIAT).
Tagliabue also appreciates China's efforts in talent cultivation and people-to-people exchanges. He noted that China has been investing in people for many years, which has generated tangible benefits in the form of talented scientists and researchers who have studied abroad and then? returned? to China to work.
He lauded the fact that China has intensified its efforts to promote international sci-tech collaborations and exchanges, and established various programs to support the brightest minds, in order to become a worldwide magnet for talent and innovation.
"China is a land of opportunities," said a Nigerian scientist Oluwarotimi Williams Samuel, who also works at SIAT, adding that different sectors in China are opening to embrace global cooperation.
Sci-tech Progress Sparks More Opportunities
"Since arriving in Beijing in early 2014, I have been fortunate to witness China's outstanding progress in basic science," said Faiola, adding that China has made significant progress in technological development, and Chinese high-tech enterprises have been globally influential in recent years.
He said, with multi-faceted efforts to support various industries, China has not only taken a leadership role in the aerospace sector, but also made remarkable scientific achievements in high-tech fields such as biotechnology, alternative energy, and new materials, which have attracted increasing global attention.
In today's interconnected world, countries are facing various global challenges. "Only by cooperating and building a shared future can we address these challenges," Faiola emphasized. He believes that China's sci-tech advancements will bring new vitality to the international community and the country will, "Play a significant role in a more diverse global scientific research community in the future."
Lacorte said that China's research environment is dynamic, attractive, and promising for the future of China and the world. From his point of view, China has almost achieved "a miracle" in technological and enterprise innovation in the last few years.
The country has become a global driving force of industrial transformation, supporting innovation and creating a greener environment, he said.
Having conducted research in China and witnessed the country's sci-tech achievements, Gouretski expresses his admiration for China's progress in the field of science and technology.
Before visiting China, Gouretski could only read about the country's technological achievements from books and magazines. However, after seeing the achievements firsthand, he recognized the significant progress made by China in previous decades. He admired the country's advanced infrastructure, which he considers comparable to that of developed parts of Europe.
Gouretski is impressed by China's advancement in part because of how much science and technology has permeated into daily life. When travelling in almost any city or province in China, he always has access to a strong mobile phone signal and stable internet connection, which is not always the case in Germany.
Regarding the idea of "science empowering life," Faiola added that Beijing is a remarkably convenient city to live in, with features such as phone payment apps, and he seldom takes a wallet with him. (Science and Technology Daily)