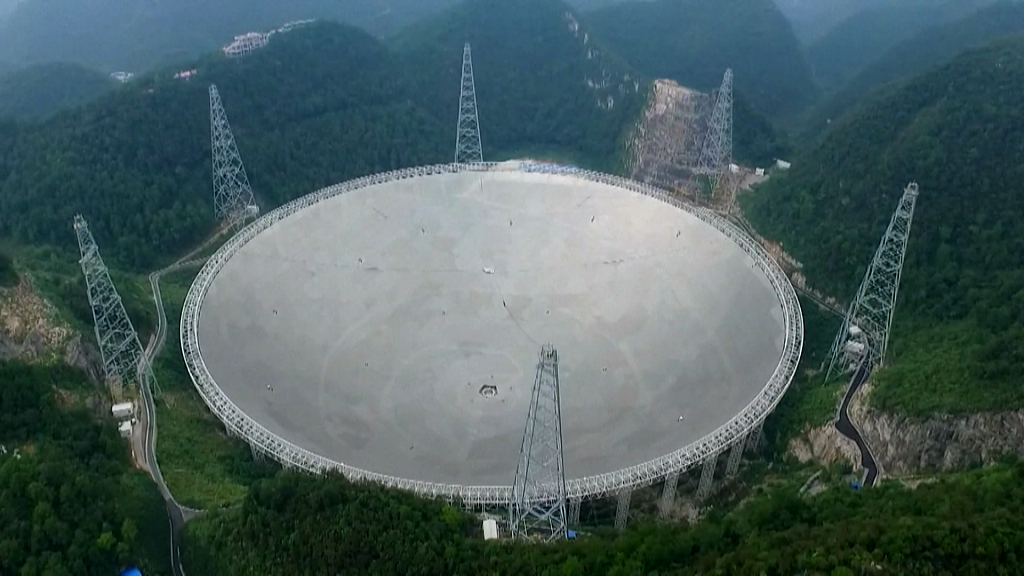 The world's largest single-dish telescope FAST, Guizhou Province, China. /CFP
Observations made using China's Five-hundred-meter Aperture Spherical Telescope (FAST), the world's largest single-dish telescope, have unearthed circular polarization of two active repeating fast radio bursts (FRBs).
FRB is super intense, millisecond-long bursts of radio waves emitted by unidentified cosmos sources.
Scientists have tried to determine the origin and mechanism of the mysterious astrophysical phenomenon since the first FRB Lorimer Burst was detected in 2007.
So far, more than 600 FRBs have been detected, most of which were detected only once, and less than 5 percent are repeating, among them less than 10 percent are relatively active.
Through analyzing the FAST's observation data, a team at the National Astronomical Observatories of the Chinese Academy of Sciences, led by Li Di, said it has detected circular polarization in less than 5 percent of the bursts of two repeating FRBs (FRB20121102A and FRB20190520B), and the largest degree of circular polarization was 64 percent.
Common sources of light, including the Sun and incandescent lights, produce unpolarized light, while linear polarization has been detected in almost all repeating FRBs.
Circular polarization is relatively rare, only FRB20201124A was reported before these two repeating sources.
The fine description of the polarized radiation characteristics will help the understanding of the radiation mechanism of FRBs and hopefully reveal their origin.
The team reported the research in Science Bulletin on Monday. (CGTN)