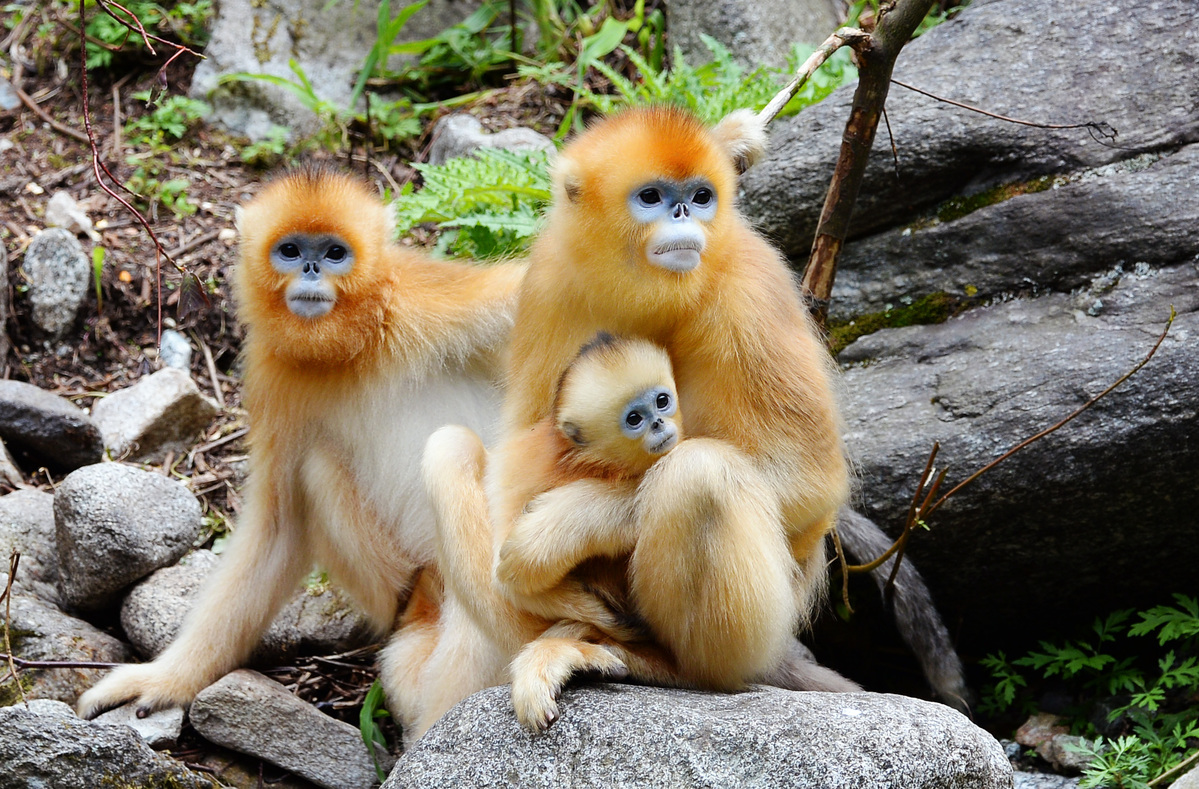 A family of golden snub-nosed monkeys in the Qinling Mountains, Shaanxi province. [Photo/Xinhua]
Upgraded checklist gives scientists worldwide access to Chinese species
The Chinese Academy of Sciences released the Catalogue of Life China: 2022 Annual Checklist on Sunday, allowing scientists around the world to access a newly updated taxonomic database of the species of organisms in China for the study of biodiversity and conservation.
Sunday marked the International Day for Biological Diversity, with this year's slogan being "building a shared future for all life". Chinese taxonomists have been releasing the catalogue since 2008, and China is the only country to update this catalogue annually, according to the Biodiversity Committee of CAS.
The 2022 checklist contained 125,034 species and 13,259 infraspecific taxon classifications below the species level, such as subspecies, races and varieties. The new catalogue contained 9,970 more species and 373 more taxa compared to the 2021 version.
Ma Keping, the deputy director and secretary-general of the Biodiversity Committee of CAS, said the catalogue aims to record what species China has and provide data that serve as the foundation for biodiversity research, conservation and policymaking.
Since 2018, more than 5 terabytes of data have been downloaded from the Catalogue of Life China, and the database's website has been visited over 10 million times.
"Biodiversity can fill the Earth with vigor and vitality, and it stands as the basis for human survival and development," he said. "Therefore, protecting biodiversity means protecting Earth, our shared home, and facilitating mankind's pursuit of sustainable development."
Li Shuqiang, a noted spider expert and a researcher from the Institute of Zoology of the Chinese Academy of Sciences, said studying spiders can help scientists understand agricultural pests and lead to the creation of new biomimetic inventions that draw inspiration from the special features of arachnids.
Minister of Ecology and Environment Huang Runqiu said in an article published in Guangming Daily on Sunday that China has established nearly 10,000 nature reserves, accounting for around 18 percent of the nation's total landmass.
China will try to tap into biodiversity resources to create more unique and sustainable industries so that humans can live in harmony with nature, he wrote.
The country will also proactively participate and contribute in the global governance of biodiversity and facilitate the building of a green Belt and Road Initiative, he added. (China Daily)